Pediatric Hospital Medicine
---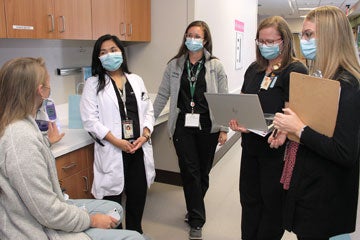 Pediatric hospitalists are doctors who care for patients admitted to the hospital for general pediatric conditions. Hospitalists' time and expertise are specifically devoted to caring for patients who are in the hospital. In addition to providing medical care, a hospitalist's job is to communicate and coordinate with each patient's family, primary care provider and other specialists involved in patient care. 
Our hospitalists are available 24 hours a day, seven days a week.
---
Extensive Training
All of our hospitalists are members of the Division of Pediatric Hospital Medicine in the Department of Pediatrics at University of Alabama-Birmingham. Each pediatric hospitalist has graduated from medical school and has three or more years of postgraduate training in pediatrics. Pediatric Hospital Medicine is now a board-certified subspecialty by the American Board of Pediatrics. In addition, many of our hospitalists have additional specialized training in medical education, quality improvement, research, and healthcare management. We are dedicated to providing the safest and best possible care to patients by serving as physician leaders, educators and researchers.
---
Specialized Knowledge
Our pediatric hospitalists specialize in care for children who are in the hospital for general medical conditions, such as:
Common pediatric illnesses, such as flu and dehydration
Infectious diseases of the blood, skin, lungs and kidneys
Respiratory illness, such as pneumonia and croup
Chronic illnesses, such as asthma
Recovery from surgery or injury
Coordination of care for children with medical complexity
---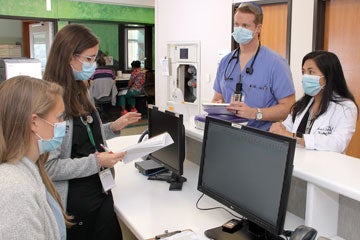 What to expect when your child is admitted:
A Team Approach
Your child will be cared for by a team of providers and other healthcare team members. The hospitalist is the leader of the care team and values the input of all those involved in your child's care including the bedside nurse, pharmacist, case manager, social worker, therapists, and other specialists. In addition, because we are a teaching hospital, there will likely be trainees involved in your child's care, including medical students, residents, and fellows. We believe involvement of trainees helps us provide better care through additional eyes and ears on your child, as well as constantly challenging us to be better teachers and lifelong learners.
Excellent communication and coordination
Our team strives to provide excellent communication and coordination to provide optimal care both in and out of the hospital. We do this by:
Forming a partnership with your primary physician to ensure your child gets seamless, high quality medical care
Facilitating family-centered care and shared decision making
Coordinating input from specialists as appropriate
Utilizing our extensive hospital systems knowledge to streamline care
Immediate access for physicians
If you are a healthcare provider and need to contact a Children's hospitalist or access information about a patient, please call 205-638-7200.