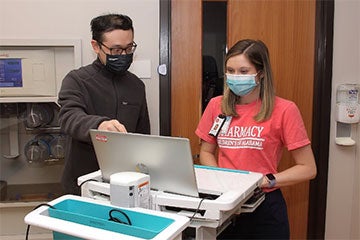 Acceptance into the residency program will be on a competitive basis using a formal application process to maximize the quality of the resident(s) ultimately chosen. Program criteria for the selection of residents are:
The applicant is or will be a graduate of a college or school of pharmacy accredited by the American Council on Pharmaceutical Education and will possess a Doctor of Pharmacy degree by July 1st of the residency year for which they are applying.
The applicant must be eligible for pharmacist licensure in Alabama.
The applicant must be enrolled in the ASHP National Matching Program.
Applicants must have minimum grade point average (GPA) of 3.0 on a 4.0 scale during their pharmacy school curriculum. Candidates applying from pharmacy programs without GPAs shall provide an indication of academic performance through official documentation from their college of pharmacy.
Applicants who completed their initial pharmacy degree, baccalaureate or PharmD from a foreign college of pharmacy need to submit proof of successfully passing the following tests: Foreign Pharmacy Graduate Equivalency Exam, the Test of Spoken English, and the Test of English as a Foreign Language (TOEFL). Because of the necessary timelines of the residency program, Children's of Alabama does not sponsor visas for foreign pharmacy residency applicants.
The applicant must provide evidence of the following:

Primary interest in pediatrics and commitment to patient care in a pediatric setting
Superior academic performance and involvement in school/professional organizations and extracurricular/community activities
Superior written and verbal communication skills
Personality characteristics required of a pharmacy resident, such as emotional maturity, independence, motivation, adaptability, and strong interpersonal skills.
Our staff is committed to providing the finest pediatric healthcare to all children. We built our legacy on our core values of trust, teamwork, compassion, innovation and commitment. We know that every time we come through these doors we will live up to our high standards as we work to make a difference in children's lives. You've chosen a career that's all about care. If you want to make a difference the life of children and their families, if you want to advance in your profession, if you appreciate good benefits, and want to work with outstanding medical professionals in a variety of areas, then Children's of Alabama is where you belong. If you are committed to the care of pediatric patients and interested in growing, learning, and being part of an exceptional pharmacy team, we invite you to apply to our pharmacy residency program!
---
How to Apply to our Residency Program
Application to our PGY1 program requires:
A letter of interest/intent
Curriculum vitae
Official pharmacy school transcript
photo of the applicant
three letters of recommendation (one of which must come from an employer or supervisor)
Applications must be submitted using PhORCAS. All application components must be received by December 29, 2022.
Invitations to interview will be sent by late January. Unfortunately, it is not possible to interview all applicants. Interviews will be conducted in February and will include a 10-minute presentation to the interview committee. Interviews for the 2023-2024 residency year will be conducted virtually. If desired by interviewed candidates to assist them in making ranking decisions, onsite visits may be arranged after February 23, 2023. These visits will have no bearing on the ranking of candidates by the Children's interview committee. ;No person at this residency will solicit, accept, or use any ranking-related information from any residency applicant.
If you have any questions or would like additional information, please contact:
Deidra Schmidt, Pharm.D., AAHIVP
Residency Program Director
Children's of Alabama Department of Pharmacy
1600 7th Avenue South, Birmingham, AL 35233
Phone: 205-638-9712
Fax: 205-638-9934
Deidra.Schmidt@childrensal.org