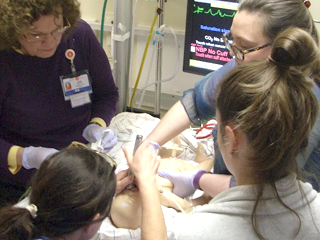 The Pediatric Simulation Center offers a variety of clinical experiences for all health care providers and teams including nursing, medicine, pharmacy, counseling, respiratory therapy, and community groups and families of medically fragile children.
Some of our pre-clinical and clinical medical simulation programs include:
Basic and Advanced Airway
Crisis Resource Management
Task and Skill Training
Multidisciplinary and Team Training
Anesthesia and Intraoperative
Pediatric Critical Care
Pediatric Emergency Care
Neonatal Intensive Care
Pediatric Cardiovascular Care
Mock Code
Pediatric Sedation
Trauma Team Training
Extracorporeal Membrane Oxygenation
Pediatric Home Ventilation Emergencies
Click here to see a video about our Home Vent course for parents.
If you are interested in scheduling your students for one of our courses, please contact us so we can learn more about your learning needs and let you know what to expect. You can also check out our calendar to see what courses we offer on a regular basis.