To learn more about the individual journeys of some of our patients, please take a minute to hear their stories by clicking on the links below.
---
The Miracle of Hearing x 3
The Miracle of Hearing x3 (Clayton family)
---
Picks for Kids
As part of the "Picks for Kids" campaign, Chick-fil-A generously donates $1,000 to Children's of Alabama for each pass interception made by the University of Alabama and Auburn University football teams. Thanks to therapy materials and state-of-the-art equipment made available in part by Chick-fil-A, therapists and audiologist are able to diagnose and treat patients with speech, language, feeding, hearing, and balance issues.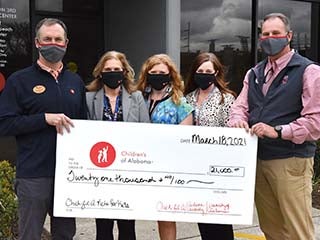 ---
The Hixon Family
"Speech therapy at Children's Hospital has exceeded our expectations in every way. Not only does Children's of Alabama consistently offer exceptional care, the staff and therapists have always been professional, caring, and very loving to my children. Ashley Hood has been our speech therapist for 4 of our children. She has always been very flexible and accommodating to our family's circumstances. She has shown great patience with each of the children, encouraged them, and carefully challenged them to reach for the next level. Our family always recommends the speech therapy program at Children's of Alabama. We believe it is the best!"
- Rebekah Hixon