VOLUNTEERING AT CHILDREN'S OF ALABAMA DURING COVID-19
We thank you for your interest in volunteering at Children's of Alabama (COA). Our priority is in staffing our COVID Screening Tables. This position is important for keeping everyone safe on our campus from those experiencing COVID symptoms. We also have additional volunteer opportunities within other areas of the hospital. You will see these additional areas listed under Volunteer Opportunities. We are accepting applications for teens 16 and older with parental permission; college students; and adults.
Should you be interested in becoming a COA volunteer please click the link to Volunteer Opportunities to learn more. Also, we ask you to think about the following:
Whether you are at high risk for COVID
You may be approached by someone not wearing a mask
You may be approached by someone who has a fever
You may be asked to escort a patient/family to a specific location in the hospital
All volunteers must complete a minimum of 48 hours (three-hour shifts, once per week, for 16 weeks) for any volunteer assignment.
All volunteers must have received the COVID-19 vaccination.
All volunteers must have received the influenza vaccination during flu season: September-April. 
All volunteers must receive a Two-Step TB (Tuberculosis) skin test at Children's to establish a baseline for TB.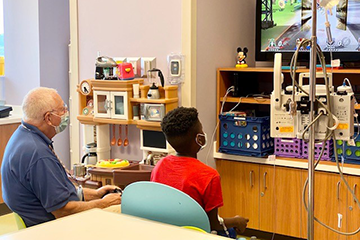 Below are the steps you will need to complete to become a volunteer:
Make Application online by clicking here – Apply Now
Submit documentation of your immunizations.  This can most likely be obtained from your local Health Department; or, if you are a student, at your school.  We must have proof that you have received the following:

Two MMR Vaccines
Two Varicella Vaccines
One TDAP Vaccine (within the last ten years)
COVID-19 Vaccine(s). Must be fully vaccinated.
Annual Influenza Vaccine: September-April  
If you have any questions or concerns regarding these steps, please contact Michael Savela, Database & Compliance Coordinator at: Michael.Savela@Childrensal.org .   

Upon completing the above steps, you will be invited for a volunteer interview
If approved from the interview you will be assigned the online orientation
After completing the online orientation, you will be invited to the next scheduled volunteer On-Boarding Event (this occurs in the evening hours).  For those of you who will be serving at the COVID Screening Table, you will also receive training during the On-Boarding Event. 
Up Coming On-Boarding Events:   
Tuesday, August 9
Tuesday, August 23
Tuesday, September 6
Tuesday, September 20  
As you complete each step, you will be directed to the next one as quickly as possible. To minimize the process, please pay careful attention to the instructions for each step. This will help us get you started volunteering as soon as possible.
For additional questions or concerns about volunteering at Children's of Alabama, please call the Volunteer Center Monday-Friday between 9:00am-6:00pm at: 205-638-3231. 
Thank you for your interest in volunteering at Children's of Alabama!