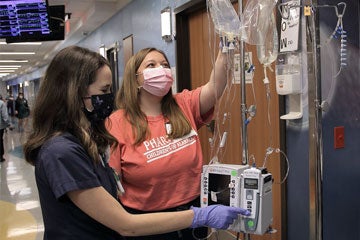 Children's of Alabama Pharmacy department is committed to excellence
in the provision of pharmaceutical care to the patients we serve. Pharmaceutical care consists of medication delivery, decisions about medication selection, dosages, routes and methods of administration, medication therapy monitoring, and the provision of other medication-related information and counseling to individual patients.
Our pharmacy department is comprised of 69 pharmacists and 51 support personnel. Pharmacists in our department work from inpatient pharmacy, from satellites in Hematology/Oncology and Surgery, or are unit-based in BMT, CVICU, Dialysis, NICU, PICU, Hematology/Oncology, and Pulmonary patient care areas.
The Pharmacy department uses robotic technology in intravenous compounding and inventory management as it strives to be a leader in patient safety. Our clinical pharmacists are members of multi-disciplinary teams on the neonatal intensive care, pediatric intensive care, cardiovascular intensive care, cardiology, nephrology, pulmonary, infectious disease, pediatric hospital medicine (general pediatrics), hematology/oncology, bone marrow transplant, gastrointestinal, and solid organ transplant services.
The department of pharmacy provides pharmaceutical care services to inpatients, clinic patients, and the community. Our pediatric-trained pharmacists provide therapeutic drug monitoring, therapeutic and cost- effective interventions, pharmacokinetic consults, ketogenic diet consults, anticoagulation consults, investigational drug support, and drug information services to the patients and health care professionals within the health system. Our pharmacy staff respond to codes and level 1 traumas, as well as any other emergencies when called upon.