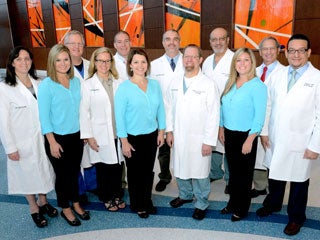 Vascular and Interventional Radiology (VIR) is a sub-specialty of Diagnostic Radiology that has evolved over the past 25 years to become an integral part of comprehensive patient care, providing less invasive techniques for the diagnosis and treatment of a broad range of health problems.
The vascular and interventional radiology team at UAB is a dedicated group of healthcare professionals consisting of 6 full-time Interventional Radiologists, who are highly skilled and committed to providing the highest quality patient care and education programs for our patients and for the community. Our group is also committed to provide a superior environment for the education of health professionals through our fellowship program and research trials.
Our group uses cutting edge interventional devices and State-of-the-art imaging techniques including fluoroscopy, ultrasound and computed tomography (CT scans) to perform a variety of innovative interventional procedures for treatment of malignant tumors (cancer), peripheral arterial and venous, urologic and hepatobiliary diseases. Our group also performs Transjugular Intrahepatic Portosystemic Shunts (TIPS), varicocele embolization, uterine fibroid embolization, Dialysis related interventions and central venous access catheter placement and management. These procedures are well tolerated by the patients and usually done on outpatient basis.
To refer patients or to schedule a procedure, please call our scheduling nurse at 205-638-GOIR (4647).
Location
Benjamin Russell Building 3rd Floor
1601 5th Avenue South
Birmingham, AL 35233
Parking
5th Avenue Parking Deck. Bring your parking deck ticket to your appointment. Your parking deck ticket will need to be validated on the day of the procedure to receive FREE PARKING. Otherwise, there will be a FEE TO EXIT the parking deck.
---
Procedures Offered
Angiography, Angioplasty, and Stenting
Biliary Interventions including PTC, PTD, Plastic Stents, and Stone Removal
Central Venous Access
Dialysis-Related interventions
Gastrostomy and Gastrojejunostomy T

ube Placement and Management

Inferior Vena Cava Filter Placement and Retrieval
Sclerotherapy
Percutaneous Abscess Drainage
Arterial and Venous Thrombolysis
Radioembolization and Ablation of Tumors

Embolization of Gastrointestinal Bleeds

WADA Test
Cerebral Angiography and Intervention
Joint Injections for Pain Management
Image-Guided Biopsy
---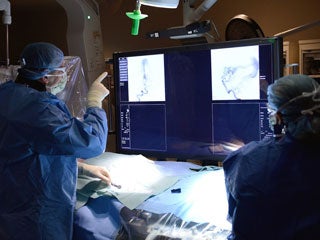 Areas of Research
Current Trials: Vascular and Interventional Radiology currently has an ongoing trial involving dialysis access selection of best catheters/grafts and their role of endografts versus plain angioplasty in dysfunctional grafts/fistulas.
Techniques
Conditions and Treatments
Vascular Diagnostic
Arteriography
Aortic Injections
Neuro
Peripheral
Pulmonary
Visceral
Venography
Central/Visceral
Peripheral
Portal
SVC/IVC
GI Procedures
Gastric
GI Intervention
GI Tube Maintenance
Percutaneous UGI Access
UGI Intubation
Biliary
Biliary Intervention
Bile, Stent, Internal
Bile Stricture Dil
Bile, Stone Removal
Bile, Tube Maintenance
Cholecystostomy
Perc. Biliary Drainage
PT Cholangiography
GU Procedures
Antegrade Pyelogram
Cystostomy
GU Tube Maintenance
Nephrostomy
Renal Stone Manipulation
Ureteral Stent (double J)
Spine Procedures
Discography
Vertebroplasty
Tumor Therapy
Arterial Brachytherapy
Brachytherapy Tumor
Direct Injection Tumor
RF Ablation Tumor
Venous Intervention
Ablation Therapy
Embolization
Filter Placement
PTA Stent
Thrombectomy
Thrombolysis
TIPS
Venous Sampling