New virtual reality gaming system transforms exercise therapy for children with physical disability (featuring Dr. Byron Lai's research, 2021) - View article 
Children's Honors Physician Board Members with Endowed Chairs (featuring Dr. Drew Davis, 2021) - View article 
This robotics program uses innovative tech to help children with physical impairments (2021) - View article
Children's of Alabama opens facility at Lakeshore Foundation campus (2018) - View article
---
Patricia Clark wins the 2018 Specialty Care ServicesExcellence Award
Please join us in congratulating Patricia Clark, RNon winning theSpecialty Care Services Excellence Award presented at the 2018 Nursing Excellence Ceremony on May 9, 2018.This prestigious, peer nominated award honors the work done in nursing practice topromote and deliver quality healthcare as well as commitment to safety and service at Children's of Alabama.
Patricia Clark winsthe 2017 Anchor Award in recognition of her dedication to and support of the UAB Physical Medicine and Rehabilitation Residency Program. This award is given annually to an individual that the residents see as playing a key role in their education and training.
Resident education is an important part of the work that we do as a division and this recognition not only acknowledges this but also recognizes that support and learning for residents comes from multiple individuals in addition to physicians throughout their training.
---
Congratulations Dr. Davis!
Dr. Davis has been appointed Vice-Chair of Academics for the Pediatrics and Developmental Disabilities Council of the American Academy of Physical Medicine and Rehabilitation.
Pediatric Rehabilitation Medicine Brings New Sub-specialty Certification to Pediatrics
Drew Davis, MD, is the first member of the UAB Department of Pediatrics to become board certified in Brain Injury Medicine (BIM), a new sub-specialty recognized by the American Board of Medical Specialties. The inaugural exam was administered on Oct. 6, 2014. The certification was developed to recognize the unique work and scope of practice that involves the prevention of brain injury and the evaluation, treatment, and rehabilitation of individuals with acquired brain injury. BIM physicians provide a high level of care for patients with brain injury and their families in the hospital, post-acute setting, and over the continuum of care to facilitate the process of recovery and improve medical and functional outcomes. Dr. Davis also maintains board certification in Pediatric Rehabilitation Medicine and Physical Medicine and Rehabilitation.
---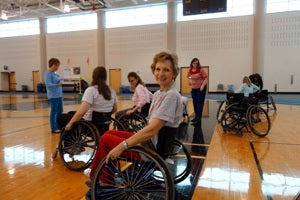 Rehabilitation Medicine Annual Retreat
The UAB Division of Pediatric Rehabilitation Medicine spent an afternoon at The Lakeshore Foundation with Children's of Alabama (COA) staff for the annual Inpatient Rehabilitation Service retreat. The afternoon was spent reviewing annual service numbers, celebrating patient success stories, and discussing future goals. COA Performance Improvement (PI) staff also provided an update on incorporation of the WeeFIM assessment, the primary functional out-come measure used for inpatient rehabilitation, into one of many system wide initiatives currently being managed by the COA PI department. Following the formal activities, staff from The Lakeshore Foundation lead team building activities utilizing adaptive sports activities including wheelchair football, goal ball, a team sport for athletes with visual impairment, and sitting volleyball, a game started by athletes with limb loss.
---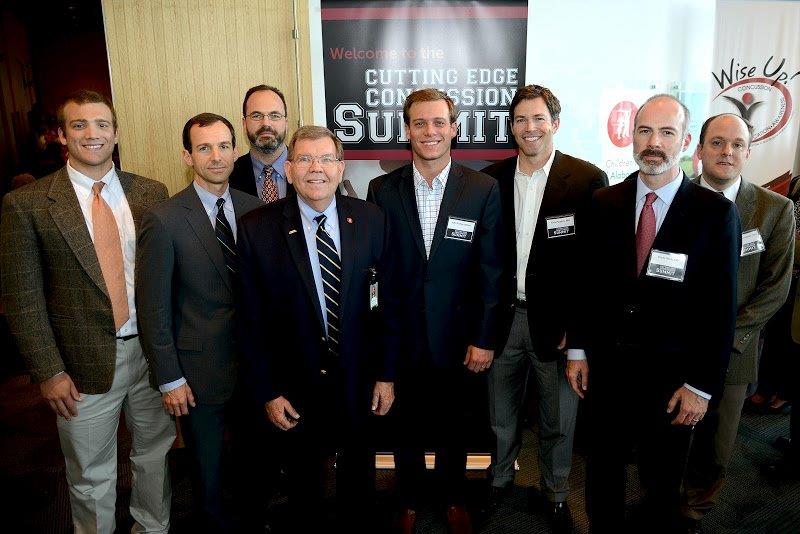 Concussionconference speakers (left to right): Joseph Robin,
Jim Johnston MD, Joel Stitzel PhD, Drew Ferguson, John Parker Wilson,
Alex Powers MD, Drew Davis MD, Marshall Crowther MD
Drew Davis, M.D. Presents at Concussion Summit at Children's of Alabama
Panel Discussion: Prolonged Recovery from Concussion was presented by Dr. Davis at the "Cutting Edge Concussion Summit- Maintaining the Competitive Edge" on Friday, June 13, 2014. The day-long conference was open to the public and attracted approximately 200 attendees. The event was hosted by UAB Sports Medicine at Children's of Alabama in conjunction with the Wise Up! Initiative. Presentations were geared to coaches, athletic trainers and parents. Sessions included Critical Changes in Concussion Culture, Epidemiology of Sports and Recreation-Related TBI, and a panel discussion on Prolonged Recovery from Concussion among others.
Panel Discussion: Prolonged Recovery from Concussion - Watch the video.
---
Paola Mendoza, M.D. receives the Samuel L. Stover, M.D. Excellence in Teaching Award
We are proud to announce that Dr. Paola Mendoza has been awarded the 2014 Samuel L. Stover, M.D. Excellence in Teaching award by the residents of the UAB Department of Physical Medicine and Rehabilitation (PM&R). The Samuel L. Stover, M.D. Excellence in Teaching Award was created to honor Dr. Stover's years of excellent teaching in the UAB Department of PM&R.
Paola Mendoza, MD, who joined the Division in July 2013, has recently initiated new collaborations providing clinical consultation in conjunction with the UAB Divisions of Pediatric Pulmonary & Sleep Medicine and Pediatric Hematology-Oncology. She is now seeing patients the Home Ventilator and Technology Dependence Clinic and Neuro-Oncology Clinic to assist in minimizing the number of follow-up physician appointments that these patients require.
Drew Davis, MD was invited to join the UAB-Lakeshore Foundation Research Committee. The committee works to promote an inclusion science agenda that will serve at the intersection of cutting-edge research involving non-disabled populations with a parallel set of research questions targeting select populations of understudied children, adolescents and young adults with disabilities or chronic health conditions. Dr. Davis, along with UAB-Lakeshore Foundation collaborator Dr. James Rimmer, also recently received NIH funding for a project entitled "Internet Based System for Managing Obesity in Children with Disabilities." This project will use an internet based system to provide individualized physical activity and nutrition programming to geographically diverse children with spina bifida.
UAB and Children's Hospital Named State Leaders for National Pediatric Brain Injury Network
The UAB Division of Pediatric Rehabilitation Medicine at Children's of Alabama has been selected to be the State Lead Center for Alabama in a national network of care for Pediatric Acquired Brain Injury (PABI). Lean more.