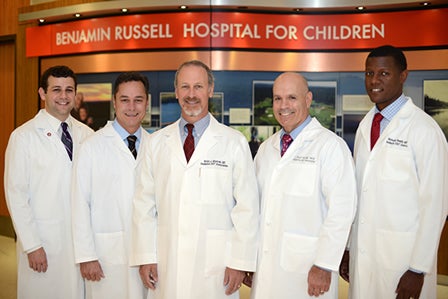 Pediatric ENT Associates specializes in the diagnostic, medical and surgical care of head and neck diseases in infants and children. All of our members are Board-certified with current Alabama medical licenses and actively publish in peer review medical journals and participate as teachers, presenters and instructors both regionally and nationally.
Areas of specific interest include:
Airway Obstruction
Obstructive Sleep Apnea
Epistaxis
Hearing loss
Hemangiomas and vascular malformations of the head an neck
Neck masses
Otitis media
Recurrent pharyngitis
Sinusitis and tonsils/adenoids
Tracheostomy placement and management
Available surgical procedures include:
Reconstruction for laryngeal stenosis
Cochlear implantation and middle ear reconstruction for hearing problems
Endoscopic sinus surgery, tonsillectomy, adenoidectomy
Laser surgery of hemangiomas and vascular malformations
Reconstruction of malformed ears
Surgery for various speech problems
Placement of myringotomy tubes
Pediatric ENT Associates sees patients at Children's of Alabama and Children's South Pediatric Outpatient Center, near I-459 and Acton Road.
---
Telephone: 205-638-4949
Locations:
Children's of Alabama
Clinic 4
1600 7th Avenue South
Birmingham, AL 35233
Children's South Pediatric Outpatient Center (near I-459 and Acton Road)
1940 Elmer J. Bissell Road
Birmingham, AL 35243
Office Hours: Weekdays, 8:00 a.m.–4:30 p.m.