October 2023 Recipient – Ryan Pate – Clinic 8
Congratulations to Ryan Pate, Clinic 8, who was presented with the October 2023 DAISY Award. His nomination read, in part, "Ryan cared for Martin, my son, nearly every time we came to the clinic, and when I saw him, I audibly sighed with relief knowing Martin was in the very best hands. Ryan had the ability to successfully juggle every patient at once, all while making me feel like Martin was the only one on his docket." Congratulations, Ryan!
---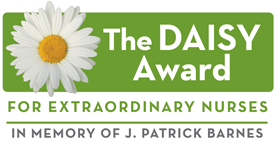 The DAISY Foundation was established in 2000 by the Barnes family in memory of J. Patrick Barnes, who died from complications of Idiopathic Thrombocytopenic Purpura (ITP) at the age of 33. DAISY is an acronym for Diseases Attacking the Immune System. Having been touched by the remarkable care, clinical skills and compassion demonstrated by nurses during Patrick's illness, the Barnes family made it their mission to recognize exceptional nurses around the world.
A DAISY Award will be given once a month. The monthly award winner will be recognized at a ceremony and will receive a framed certificate, a DAISY Award signature lapel pin and a hand-carved stone sculpture entitled A Healer's Touch. Additionally, the unit or department of the recipient will receive Cinnabon's cinnamon rolls—a favorite of Patrick's during his illness—with the sentiment that the heavenly aroma will remind them how special they are and how important their work is.
Nurses that receive The DAISY Award personify Children's of Alabama's remarkable patient experience. These individuals consistently demonstrate excellence by:
Serving as a role model for the nursing profession
Demonstrating a caring attitude in all situations
Communicating with compassion, using words the patient and family understand
Making a significant difference in the life of a patient