October 2022 Recipient – Al Bonds – 9 QB
He cared for our daughter for several days. We were nervous and scared on more than one occasion, but he always explained things and reassured us. He is easily the most informative nurse we've ever had (which helps a worrier like me!) But the thing that stood out the most was not how great he was with parents, but how wonderful he was with our child. He cared for her in a way that let her have some control over her body. He gave her options to choose from and truly included her. I think giving her the opportunity to be actively included in her care has been very beneficial for her. He let her be his "helper" and let her feel like she was in control of pushing her meds through the IV. She is now no longer scared of this! She was happy to help him. He also took the time to listen to all she had to say, and boy was it a lot! He also speaks very highly of his co-workers which is so sweet. My husband, child and I look forward to seeing him every morning. That says a lot when we're here for her 8th brain surgery.
---
October 2022 Nomination List
Jordan Stanberry – 10 QB
Haley Langley – 6 Dearth
Carolina Chacon – 7 Dearth
Amy Breams – NICU
Maddie Burlington – NICU
Mary Katherine Grumbley – PICU
---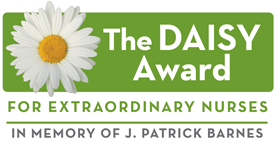 The DAISY Foundation was established in 2000 by the Barnes family in memory of J. Patrick Barnes, who died from complications of Idiopathic Thrombocytopenic Purpura (ITP) at the age of 33. DAISY is an acronym for Diseases Attacking the Immune System. Having been touched by the remarkable care, clinical skills and compassion demonstrated by nurses during Patrick's illness, the Barnes family made it their mission to recognize exceptional nurses around the world.
A DAISY Award will be given once a month. The monthly award winner will be recognized at a ceremony and will receive a framed certificate, a DAISY Award signature lapel pin and a hand-carved stone sculpture entitled A Healer's Touch. Additionally, the unit or department of the recipient will receive Cinnabon's cinnamon rolls—a favorite of Patrick's during his illness—with the sentiment that the heavenly aroma will remind them how special they are and how important their work is.
Nurses that receive The DAISY Award personify Children's of Alabama's remarkable patient experience. These individuals consistently demonstrate excellence by:
Serving as a role model for the nursing profession
Demonstrating a caring attitude in all situations
Communicating with compassion, using words the patient and family understand
Making a significant difference in the life of a patient