August 2022 Recipient – Courtney Zimmer – NICU
I would like to nominate Courtney Zimmer for the DAISY award for providing extraordinary care to not only my newborn baby but also to me and my husband. Our baby, Kennedy Queen, was transferred to Children's Hospital when he was two days old. When we arrived at the hospital we were told Kennedy was very sick and may die. Within a couple of hours he was placed on ECMO. This was the most devastating day of our lives. While he was on ECMO he always had two caregivers in his room. During his time on ECMO Courtney was his nurse for three days in a row, and we grew to love her. While he was on ECMO I sat in the recliner in his room for much of the day. Since visitation was very limited, I did not have friends and family at the hospital to talk with so Courtney became that person for me. She talked to me while she cared for Kennedy. It gave me so much confidence in the care he was receiving, and I felt like she cared for us as much as she cared for him. She did special things for him like making sure his hair looked nice before I got there in the morning. Courtney would request to be his nurse and I was always at peace when she was there. Just like the day he was taken off ECMO I had so much peace during the surgery since she was in there. I remember asking her if different nurses would be caring for him after he was moved out of the ECMO room. I was so confident in her care and was anxious to change our set of caregivers. She reassured me by letting me know he would still be on the same unit with the same loving caregivers.
Kennedy started having withdrawals when he was being weaned off his sedation. Since he was extubated just the day before, she knew I was worried about him breathing so fast, and with a reassuring tone she told me, "We will keep a watchful eye en him." I was so glad she was his nurse that day. Courtney was quick to associate his symptoms to withdrawals. She got him out of his isolette and I held him skin-to-skin. She said this could help him calm down and rest. Since he was attached to multiple machines, it was a lat of work for the nurses to get him out of his isolette and let us hold him. But skin-to-skin is what he needed at that time and she made sure to make that happen.
Courtney was our nurse for many days throughout our NICU stay. 'Ne even got to have her as our nurse when we were in the back of the unit preparing for discharge. I know this was probably not her regular area to work, but we enjoyed her presence so much. She even took Kennedy outside for the first time to the garden. It was a bright, sunshiny day and a special memory for us.
Courtney was the nurse that started his Beads of Courage. I overheard someone mention Beads of Courage the first weekend he was there and Courtney was proactive in starting them. We didn't get to have her as his nurse on the day he was discharged, but she made a point to make sure his Beads of Courage were finished.
She was the sunshine we needed in our lives for those 30 days and we will never forget what impact she made on our lives. Please notify us if Courtney is recognized for this award. We would love to thank her in person.
Sincerely,
Rachel Queen
---
August 2022 Nomination List
Michael Maharry – 10 Harbert
Haley Langley – 6 Dearth
Carley Powell – CCU
Abbvey Romp – CVICU
Anna Seay – CVICU
Michelle Swiderski – CVICU
Lytonyia Russell – ED
Katherine Beasley – PICU
Anna Tully – PICU
Emily Fisher – SCU
Brooke Owens – PICU
---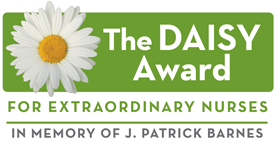 The DAISY Foundation was established in 2000 by the Barnes family in memory of J. Patrick Barnes, who died from complications of Idiopathic Thrombocytopenic Purpura (ITP) at the age of 33. DAISY is an acronym for Diseases Attacking the Immune System. Having been touched by the remarkable care, clinical skills and compassion demonstrated by nurses during Patrick's illness, the Barnes family made it their mission to recognize exceptional nurses around the world.
A DAISY Award will be given once a month. The monthly award winner will be recognized at a ceremony and will receive a framed certificate, a DAISY Award signature lapel pin and a hand-carved stone sculpture entitled A Healer's Touch. Additionally, the unit or department of the recipient will receive Cinnabon's cinnamon rolls—a favorite of Patrick's during his illness—with the sentiment that the heavenly aroma will remind them how special they are and how important their work is.
Nurses that receive The DAISY Award personify Children's of Alabama's remarkable patient experience. These individuals consistently demonstrate excellence by:
Serving as a role model for the nursing profession
Demonstrating a caring attitude in all situations
Communicating with compassion, using words the patient and family understand
Making a significant difference in the life of a patient