December 2022 Recipient – Carly Cahela – 9 QB
This experience has been overwhelming to say the least. When we transitioned from PICU her face was one of the first we saw. She has been compassionate to not only my daughter but to us as a family as well. Questions or concerns are handled immediately with calm reassurance that eases my anxiety as well as my daughter. She thought outside the box to increase oral intake, offering several options. Finally deciding on hot chocolate. She returned to the room with a Starbucks design on the cup. For a teenager it really made her giggle which in turn cheered my heart to see the amount of caring and time invested. When she is needed, she comes immediately but also gives my daughter time to rest when she is asleep. There is never not a fresh beverage on her table, and she offers different choices to find her interests. She has coordinated with all teams involved in my daughter's care, making sure everything is covered. Pain has been addressed as needed and effective. She really listens and Involves my daughter not only In conversations but hears what she has to say. Thanks for having such an amazing staff but especially for her!
Sanitation is always addressed before and after she comes in and her calm demeanor alleviates doubt and apprehension from such a traumatic experience.
---
December 2022 Nomination List
Lauren Ramos – 10 Harbert
Jessica Howell – 5 Dearth
Mary Kate Easterwood – 5 Dearth
Alexandria Pruitt – 8 QB
Ashton Odom – 9 Harbert
Alex Houser – NICU
Gracie Davis – PICU
Alyson Foshee – SCU
Amber Jordan – SCU
Tyndell Cunningham – SCU
---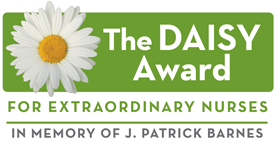 The DAISY Foundation was established in 2000 by the Barnes family in memory of J. Patrick Barnes, who died from complications of Idiopathic Thrombocytopenic Purpura (ITP) at the age of 33. DAISY is an acronym for Diseases Attacking the Immune System. Having been touched by the remarkable care, clinical skills and compassion demonstrated by nurses during Patrick's illness, the Barnes family made it their mission to recognize exceptional nurses around the world.
A DAISY Award will be given once a month. The monthly award winner will be recognized at a ceremony and will receive a framed certificate, a DAISY Award signature lapel pin and a hand-carved stone sculpture entitled A Healer's Touch. Additionally, the unit or department of the recipient will receive Cinnabon's cinnamon rolls—a favorite of Patrick's during his illness—with the sentiment that the heavenly aroma will remind them how special they are and how important their work is.
Nurses that receive The DAISY Award personify Children's of Alabama's remarkable patient experience. These individuals consistently demonstrate excellence by:
Serving as a role model for the nursing profession
Demonstrating a caring attitude in all situations
Communicating with compassion, using words the patient and family understand
Making a significant difference in the life of a patient