We provide specialized care to patients who meet established criteria for Trauma Team activation or patients referred to Children's for pediatric trauma care.
Trauma care provided ranges from the initial assessment in the Trauma Room, the Emergency Department, and/or
one of the Critical Care Units through the Rehabilitation phase of inpatient care, and continues through outpatient
clinic follow-up.
Patient population ranges from newborn to 15 years old.
Sedation for diagnostic or therapeutic procedures on trauma patients will be done in the Emergency Department
Minor Procedure Room or the Admission unit under the supervision of qualifi ed sedation providers.
Our Team
Robert Russell, MD, MPH
General Surgery/Trauma Medical Director

Adam Lansdon, BSN, RN
Trauma Coordinator

Lillie Williams, RHIT
Trauma Registrar

General Surgery Team
---
Serving pediatric trauma patients in Alabama and surrounding areas 24/7
The Trauma Service Office (Coordinator and Registrar) is staffed M-F 7:00-3:30.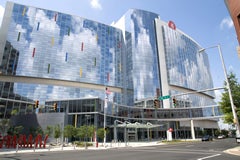 Trauma Service is provided in the following:
Resuscitation/Trauma Rooms (TR)
Emergency Department (ED)
Pediatric Intensive Care Unit (PICU)
Special Care Unit (SCU)
Burn Unit (BU)
Acute Care fl oors
Operating Room as required