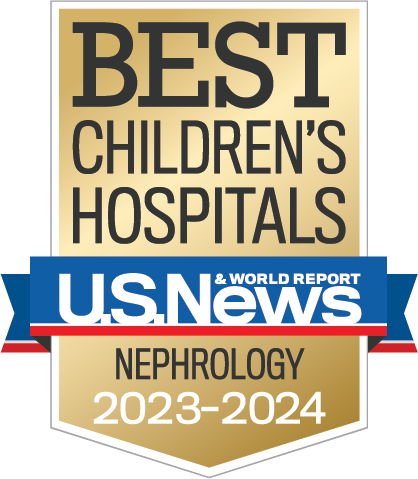 Pediatric Nephrology located at Children's of Alabama in Birmingham is a division of the UAB Department of Pediatrics. The pediatric nephrology team, which includes specialized nurses, nutritionists, social workers, family counselors and faculty, evaluate and treat children with kidney disease from infancy to adolescence. They care for those with urinary tract infections, hypertension, hematuria, proteinuria, glomerulonephritis, nephrotic syndrome, vasculitis, systemic lupus erythematosis and chronic kidney disease--including those who require chronic dialysis or transplantation.
The Renal Care Center is one of the largest comprehensive pediatric dialysis units in the United States offering acute and chronic dialysis therapies. The specialized staff offers peritoneal dialysis, hemodialysis, continuous renal replacement therapies, kidney biopsies, and plasmapheresis for infants, children and adolescents. In order to maximize health and quality of life, the Renal Care Center at Children's of Alabama is one of three pediatric programs who train qualifying pediatric patients to perform hemodialysis at home using NXSTAGE Portable Dialysis Machine.
In conjunction with the Division of Transplantation Surgery at UAB, the Division of Pediatric Nephrology at Children's of Alabama is one of the largest pediatric kidney transplant programs in the country. Multi-center studies determine the optimal immunosuppression therapy to maximize long-term outcomes for children with kidney transplantation.
The research and clinical interests of the division are broad. The division participates in multi-center studies on drug discovery/pharmacokinetics, assessment, progression and treatment of chronic kidney disease in children.
Phone: 205-638-9781, Toll-free: 866-562-1153
Fax: 205-638-2517
---
Conditions We Treat Include:
End-stage and acute renal failure
Glomerulonephritis
Fluid and electrolyte problems
Hematuria
Hypertension
Proteinuria
Renal transplantation
Kidney Stones
Systemic lupus erythematosis
Acute kidney injury
Congenital anomalies of the kidney and urinary tract
Genetic kidney conditions including polycystic kidney disease
Nephrotic Syndrome
If you are scheduled for an appointment with one of our physicians or would like to schedule, please call our office at 205-638-9781 or 866-562-1153 and our staff will be happy to assist you.