General Anesthesia Imaging-Surgery
---
Due to COVID-19 the following restrictions are in place for the Surgical and General Anesthesia Imaging areas:
Two parents/caregivers are allowed to bring the child
Caregiver and patient are requested to wear a mask while in the facility
No other visitors, including siblings allowed
If your child is ill, please call the clinic or Doctor's office before arrival for additional instructions
Do not visit if you have flu-like symptoms and/or cough, fever and/or shortness of breath
---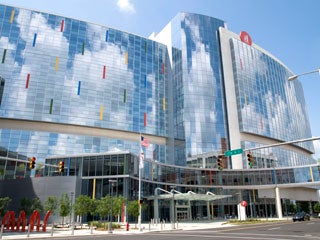 Welcome to Children's of Alabama. We are pleased you have chosen Children's for your General Anesthesia Imaging test. Our area specializes in preparing patients and families for imaging tests under general anesthesia. We have staff that is specially trained to care for your child during this process. Our focus is on making your visit with us a positive experience. On this site, you will find some helpful tips and information that may be useful to you before, during and after your stay with us.
Benjamin Russell Hospital for Children
1st floor Benjamin Russell building
1600 5th Ave. South
Birmingham, AL 35233
Phone: 205-638-9100
After Hours (use after 4p.m.)
Phone: 205-492-2516
Please Note: History and Physical form completed and signed by doctor within last 30 days must be brought with the patient the day of Imaging procedure.
---
Directions
View Map to Benjamin Russell Facility (5th Avenue Parking Deck)
Use the crosswalk on level 2 when exiting the 5th avenue parking deck and it will take you to the 2nd floor of the hospital. As you enter the hospital you will see glass elevators to your left, you will take them down to the 1st floor, as you exit you will see the registration desk to your right.   
Parents and family clergy park free, all other visitors receive parking at a discounted rate. Please bring Parking Deck ticket with you so that it can be validated.
---
General Anesthesia Imaging Procedures
Imaging scans requiring anesthesia
MRI
CT
SPECT/PET
Interventional Radiology procedures
APASS Pre-anesthesia Evaluation
If your child is scheduled to have general anesthesia, please complete an APASS Online Patient Questionnaire at least 2-3 business days prior to the surgery, procedure or imaging scan.