Patient Care Access During The World Games July 7-17
Children's will continue with normal operations during The World Games, including inpatient, outpatient, and emergency services at its downtown Russell Campus facilities. Patients traveling to Children's for medical care should refer to the World Games Road Closures map and plan their routes accordingly. Allow extra travel time when coming to visit our downtown facilities.
Access to our 7th Avenue South Parking Deck and McWane and Lowder buildings will be restricted from University Boulevard via 16th Street South. Those traveling to the 7th Avenue South Deck from I-65 should turn left on 14th Street South, right onto 7th Avenue South and then right at 16th Street South/entrance to the parking deck. 
Those traveling from the Red Mountain Expressway and taking the University Boulevard exit, should turn right on 18th Street South, left onto 7th Avenue South and then left onto 16th Street South/entrance to parking deck.
---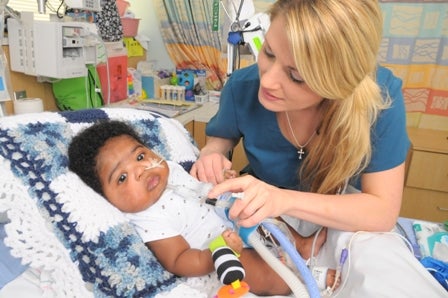 Children's of Alabama Visitation Policy
We believe that family presence and involvement are essential to the healing process of our patients and value the need for family members to be together during a child's stay in the hospital. At Children's of Alabama, we encourage parents/guardians to spend as much time as they can with their child and to participate in their child's care as a valued member of the care team.
We make every effort to comfort the patient as well as the families during this challenging time. Please keep in mind that occasionally physicians, charge nurses or hospital administration may limit, restrict or refuse visitation when it is necessary for safe patient care, to perform procedures, to handle possible emergencies or any other factor necessary for the wellbeing of our patients. We regret any inconvenience this may cause and appreciate your understanding when this occurs.
---
Mask must be worn in hospital common areas and while staff is in the room.
Inpatient visitation hours: 9am – 9pm.
Max of 4 people at any one-time (includes parents, siblings, extended family, and others).
After 9pm: only 2 parents OR caregivers permitted. All others must leave the hospital.
Parent/caregiver should be present in patient's room to receive other visitors.
Visitation restrictions may apply when:

Clinically necessary
Infection prevention practices dictate
Patient is on isolation
Parents, family, or visitors have fever, cough, or other infectious symptoms
Exceptions:
Visitor guidelines may vary on critical care units, including age restrictions for siblings and other children.
Flu vaccine is recommended for visitors on some critical care units.
Visitors who have received live viral vaccines in the last 30 days are not permitted on some units.
Visitation hours and guidelines differ on the Behavioral Health unit and are discussed upon admission to Behavioral Health.
Outpatient clinics, Primary Care Practices, One Day surgery, the Heart Center and the Emergency Department each follow their own visitation guidelines that may differ from those listed above.
Identification:
Parents and Caregivers:

Obtain a visitor's sticker from main lobby Information Desk to access unit.
Once in the patient's room, obtain Parent or Caregiver Ticket from nurse.
Take ticket to Information Desk to obtain hard badge.
Use hard badge for the duration of patient's stay
Badge must be worn and visible at all times.
A new badge is needed if patient moves to a different unit.
 

Siblings, family, and visitor Identification:

Obtain new visitor sticker from Information Desk each day.
Sticker must be worn and visible at all times.
Visitor sticker expires at close of visitation (9pm) each night.
Unit-specific questions regarding visitation should be discussed with your child's nurse
or social worker.
For questions regarding our Visitation Policy, please visit one of the information desks.
---