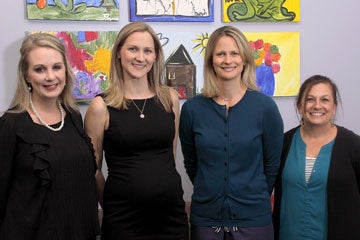 Left to right: Jamie Johnson, CRNP; India Hill, MD; Amy Theos, MD; Traci Duncan, CRNP
Dermatology treats all diseases of the skin, including acne, skin tumors, psoriasis and severe atopic dermatitis. The outpatient clinic is part of the UAB Department of Dermatology, which serves as a regional center for treating dermatological disorders.
Scope of service includes:
Diseases and disorders of 

skin, hair, and nails in infants, children and adolescents (18 years of age and younger)

Hemangiomas
Genetic skin disorders

Vascular birthmarks (hemangiomas and malformations)

Pulsed dye laser treatment for vascular lesions

Port wine stains
Our research focuses on the skin manifestations of neurofibromatosis type 1.
---
Locations
Children's South
1940 Elmer J. Bissell Road,
Birmingham, AL 35243
Dr. Hill also sees patients at Clinic 14, Downtown
1600 7th Avenue South
Birmingham, Alabama 35233
(Parking available in 7th Avenue Deck)
---
Appointments
Appointments are scheduled by referral only and we review records prior to scheduling an appointment.
Main Office Line: 205-638-4823
New Patient Appointments: 205-638-5759
Follow-Up Appointments: 205-638-9141
---
Physicians/Health Professionals
Ravi Hiremagalore, M.D.
Traci Duncan, CRNP
Jamie Johnson, CRNP