Outpatient Services at Lowder and McWane
---
---
Parking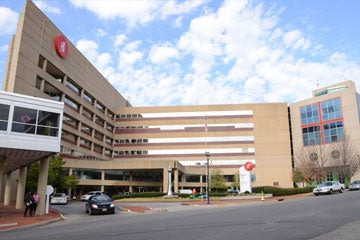 One parent may park in the 7th Avenue Deck or the 5th Avenue Deck at no charge. The rates are $1 for up to an hour, $2 for up to two hours, $3 for up to three hours, $4 for up to four hours and $5 for more than four but less than 24 hours. The cost of getting out of the deck without a validated ticket is $25. Have your parking ticket validated at one of the Clinics or Information Desks. You can pay at one of the kiosks located on Main Street near the 5th Ave and 7th Ave Crosswalk.
When exiting the parking deck, insert your ticket stub into the kiosk at the exit gate. When your ticket has been paid or validated the gate arm will rise, allowing you to drive out of the parking deck.
The parking machines do not rely or recognize green arm bands. PARKING TICKETS MUST BE VALIDATED OR PAID.
*Children's provides 24/7/365 valet services for patient families visiting our Emergency Department located at the corner of 5th Avenue South and 16th Street. Valet services are also provided for guests who use wheelchairs or other mobility assistance devices to get around the Russell Campus. This is a free service to our guests.*
Click here for driving directions.
---
Specialty Care Clinics
Clinics 1-11 located in McWane Building (formerly Main Hospital) 1600 7th Avenue South | Birmingham, AL 35233
Clinic 1: Autism and Developmental Medicine
Clinic 2: Hearing and Speech
Clinic 3: Undergoing renovation
Clinic 4: ENT (Ear, Nose & Throat)
Clinic 5: Neurology and Infusion
Clinic 6: Pulmonary Medicine and Gynecology
Clinic 7: Nephrology, Infectious Diseases, and Kidney and Liver Transplant
Clinic 8: Hematology / Oncology
Clinic 9: Dental Clinic
Clinic 10: Gastroenterology, Hepatology and Nutrition
Clinic 11: Orthopedic and Rehab Medicine (McWane, 2nd floor)
Clinic 12: Heart Transplant Clinic (Lowder, 2nd floor)
Clinic 14: General Surgery, Plastic Surgery, Genetics, Burn Center, Cleft and Craniofacial Clinic, Audiology, Rett Syndrome Clinic (McWane, ground floor)
Clinic 15: Urology, Neurosurgery and Spina Bifida Clinic (McWane, ground floor)
Dialysis (McWane, 2nd floor)
Children's Sports Medicine (Lowder, 4th floor)
Children's Behavioral Health (Lowder 5th floor)
---
What to Bring to an Appointment
Doctor's name(s)
Insurance card
Co-payment for insurance, if applicable
List of child's medication(s)
List of questions you may have for the doctor or nurse
Books or games
Snacks or formula (Please do not bring food if your child must not have anything to eat or drink before the appointment.)
Insurance and demographic (address, phone number, etc.) information is confirmed at every visit.
---
Permission to Treat
At least one parent or legal guardian must accompany all minor patients. If someone
other than a legal guardian or parent will accompany your child, please ensure you
provide them with a written, signed "Permission to Treat" slip. Please include the name
of the person who will accompany your child as well as their relationship to your child
in the permission slip.
---
Patient Access/Patient Registration
Patient Access/Patient Registration is one of the first faces that families see or speak with when they arrive to the hospital. From Children's South to Emergency Department to Specialty Clinics to One Day Surgery, pre-registration, scheduling and registration, our faces are there. We work as a single unit in providing the best care possible for our patients. Excellent customer service is one of our primary goals. Our Dedicated and Centralized Schedulers, Pre-registration and Front desk personnel collaborate with each other and office/clinic staff to help make our patient and families' visit as smooth as possible.
Our primary function is to greet, admit, register or discharge patients accurately in a timely manner, schedule appointment requests via telephone, i-Connect , fax, and email. Dedicated Schedulers will schedule new patient appointments for assigned departments utilizing scheduling protocol, as well as coordinate and schedule any additional tests that are needed. Centralized Schedulers are schedulers who schedule return patient appointments, enter data for new patients and also coordinate any additional test that the patient may need as requested by physician. Some of the clinics enter charges, collect co-pays and schedule return appointments. We also communicate with doctors (within the hospital and outside of the hospital), nurse practitioners, clinic coordinator, nurses and coworkers."
Regardless if they are newly diagnosed or returning patient, we value each individual patient as being our top priority.
---
Insurance/Payment/Referral/Billing
Please make sure you have a referral from your Primary Care Physician before the specialty visit, if this is required by your insurance. Know the services your insurance plan covers so that you can prepare for and be involved in the care of your child at Children's of Alabama.
You may receive more than one bill for the care provided to your child at Children's of Alabama. The bill you receive from Children's of Alabama will not include the doctor's fee or reading fee for any x-ray or lab work. If you have questions about your Children's bill, please call: 205-638-9139.
---
While You're Here
Children's offers a variety of services to help make your stay with us a little easier. Please visit the first floor of the hospital to take advantage of these amenities. Services include the Gift Shop, Cafeteria, Information Desk, ATM, etc. A Regions Bank ATM is available seven days a week, 24 hours a day in the Main Lobby. It is located behind the Information Desk and is in the hallway leading to the cafeteria. The Cafeteria is open from 6:30 - 10 a.m., 11 a.m.- 2:30 p.m. and 4:30 - 7 p.m. everyday. Wagons are also available in the main lobby to help with transporting patients and their equipment. The hospital also provides free Wi-Fi Internet Access.