What is Computed Tomography (CT)?
A CT scan is one of many services offered by the Pediatric Imaging at Children's of Alabama.
A CT scan is sometimes referred to as a CAT scan (Computerized Axial Tomography). The CT scanner has a tube and resembles a giant doughnut. The patient is moved through the tube while images (or slices) are acquired. A computer combines all of the slices into a picture of the inside of the body.
Prior to the exam:
There are different ways to prepare depending upon what type of CT scan your child is having.
If your child is not being sedated and is not receiving contrast, then there are no special preparations.
If your child is not being sedated but is receiving IV contrast, they must not eat for 2 hours prior to the exam.
If you child will be receiving sedation, someone from the Anesthesia Department will contact you with specific instructions, which must be followed carefully.
If your child has a known allergy to radiographic contrast, additional preparations may be needed. Please contact your referring physician to inquire about what is necessary.
Dress your child in comfortable clothing with no metal objects such as zippers or snaps. Remove any jewelry as well.
Your child may be given a gown to change into, if required.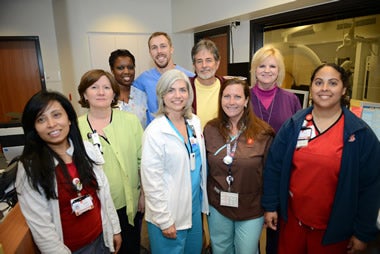 CT Staff
When you arrive:
Your physician's office will instruct you on where to register. Once the registration process is completed, a technologist will greet you and escort you to the CT examination room.
During the exam:
During the exam, your child will lie down on a table that moves though the opening of the scanner. It does not touch or hurt the child. It is important for the child to hold still during the exam in order to obtain images of a good diagnostic quality. Most CT scans last approximately 5-15 minutes.
If your child's CT exam requires sedation you child will be taken to the imaging recovery room where they will be monitored as they wake up.
Contrast may be needed for some scans. Contrast enhances the images in ways that will allow some things to show up better. A radiologist or the ordering physician will determine if contrast is needed. You child will be assessed upon arrival in the CT department in order to determine their specific needs.
The two most common types of contrast are given orally (by mouth) or by IV (intravenous). Depending upon the details of the scan, both oral and IV contrast may be required.
If you child needs to receive IV contrast and already has an IV, central line or port in place, the technologist will use it. If not, a nurse or technologist will place an IV, or in some cases, a butterfly needle, for the contrast injection.
After the exam:
If your child did not receive anesthesia or sedation, there are no special instructions.
If your child received anesthesia or sedation, please follow any instructions given by the nurse upon completion of this procedure.
Test Results:
The images from your child's exam are interpreted by a pediatric radiologist and a report is sent to your physician's office.
If your physician has any questions regarding the report, he/she may call 205-638-9730
Question or concern about your child's exam?
205-638-9497