Antimicrobial Stewardship Program
---
The mission of the Children's of Alabama ASP is to provide the best antimicrobial therapy (right dose, drug and duration) to patients that results in the best outcome with the least amount of toxicity and resistance.
About the Program
Antimicrobials are an essential part of managing infections. However, upwards of 30% of antimicrobial use in hospitals is unnecessary or inappropriate.When used incorrectly, these medications offer little benefit to patients and come with high risks, such as adverse drug reactions, C. difficile infections, and development of antibiotic-resistant infections.Stewardship programs in adult centers across the country havebeen associated with improved patient outcomes, improved use of antimicrobials, and reduced costs to the institution (lower drug costs and lower rates of resistant infections).
The goal of the Children's of Alabama ASP is to provide a collaborative, yet evidence based approach to managing infections in children. This means using the right antimicrobial at the correct dose for the appropriate duration in order to cure or prevent infection, while minimizing adverse drug events and emergence of resistance.
---
Children's of Alabama Receives IDSA Antimicrobial Stewardship Centers of Excellence Designation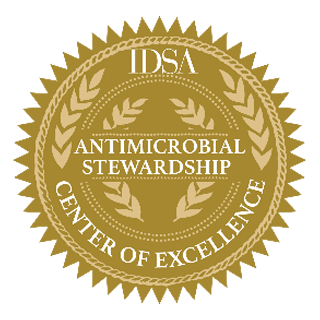 Children's of Alabama has been awarded the designation of Antimicrobial Stewardship Center of Excellence by the Infectious Diseases Society of America. The designated hospitals have created stewardship programs led by infectious disease-trained physicians and pharmacists that advance science in antimicrobial resistance and have achieved standards aligned with evidence-based national guidelines such as the IDSA-SHEA guidelines and the Centers for Disease Control and Prevention's Core Elements.
Children's of Alabama is one of 101 programs, and one of 10 pediatric programs nationwide to have received the designation since the program's launch in 2017.
"While the world's attention is rightfully focused on fighting the COVID-19 pandemic, drug resistant infections continue. One of IDSA's top priorities is fighting antimicrobial resistance through research, education, training and policy initiatives. Our Centers of Excellence program honors institutions that have demonstrated leadership in that fight. Children's of Alabama and each of the CoE designees serve a critical role in ensuring that we protect the tools we have against resistant infections, setting a high standard for others to follow," said IDSA President Thomas M. File, Jr., M.D., FIDSA.
The core criteria for the CoE program place emphasis on an institution's ability to implement stewardship protocols by integrating best practices to slow the emergence of resistance, optimize the treatment of infections and reduce adverse events associated with antibiotic use and other challenging areas related to antimicrobial stewardship. A panel of IDSA member experts in antimicrobial stewardship, including infectious disease-trained physicians and ID-trained pharmacists, evaluate CoE applications against high-level criteria established for determining merit, developed by IDSA leadership.
The Children's of Alabama Antimicrobial Stewardship Team consists of ID-trained physicians Shannon Ross, MD, and Suresh Boppana, MD, and ID- trained pharmacist, April Yarbrough, PharmD. The antimicrobial stewardship team focuses on a collaborative, evidence-based approach to managing infections in children.
"Antimicrobials are an essential part of managing infections when used properly," said Dr. Ross. "The mission of our antimicrobial stewardship program is to provide the best antimicrobial therapy, with the right dose, drug and duration, to patients that results in the best outcome while minimizing adverse drug events and emergence of resistance."