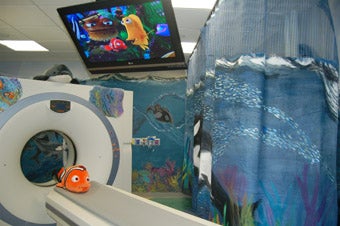 The Pediatric Imaging Center (PIC) at Children's South, is just right for children – with doctors and staff who are pediatric-trained, and with the latest equipment to help you and your doctor make the best decisions for your child.
PIC is a truly unique center with a playful aquatic theme that helps put children at ease when radiologic testing is necessary.
Parents are assured their child is receiving the lowest possible dose of radiation during tests. They also appreciate our outstanding pediatric staff, latest diagnostic technology, same-day scheduling, convenient hours, location and parking.
The Imaging Center is located at Children's South
1940 Elmer J. Bissell Road
Birmingham.AL.35243
Office: 205-638-4882
Fax: 205-638-6872
Outpatient Services Hours:
Monday–Friday, 7:00 a.m.–4:30 p.m.
For questions call 205-638-4882
Imaging services provided are:
Xray/Fluoro       
CT/Cat Scan       
Ultrasound        
MRI
Sedation
Benefits for patients at the PIC:
Pediatric trained doctors and staff
Low dose radiation
Latest technology
Same day results for most exams
Sedation available
Convenient location
Free parking
Kid friendly environment
A Patient's Best Friend (Video) 
---