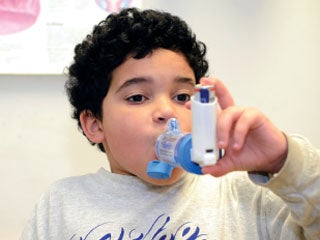 The Asthma Team in the Pediatric Pulmonary Division at Children's provides Family Asthma Education handouts to help manage the care and treatment of children with asthma. The handouts include: asthma basics, asthma triggers, asthma medicines, an asthma medicine pictorial, asthma spacers, how to have a life with well-controlled asthma, and sample asthma action plan(s) in English and Spanish.
Our "Guide to Asthma" booklet (English and Spanish versions) includes all of these handouts, plus an Asthma Action Plan and additional educational materials to help doctors and families work together as a team to help control flare ups.
The Inpatient Family Education Class is a 60-minute video of the information presented in an in-person class given to families while their child is hospitalized for asthma at Children's of Alabama.
Click on each link to download and print the handouts or booklet and to watch the video:
Inpatient Family Education Class
Every year your school requires a new form signed by your doctor allowing your child to take any medications at school. The current Alabama school form for medication is available by clicking the link below. Please print the form, fill in the child's name and the name of the medication you are requesting authorization for and bring the form to clinic with you during the summer before the school year begins.
The KidsHealth Asthma Center provides a wealth of information about asthma, including asthma basics, tips to prevent flare ups, medication and monitoring information, tools and more. There's also a special section just for kids. Visit this link for the Parents Asthma Center and visit here for the Kids Asthma Center.