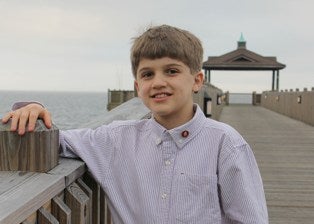 Al Guarisco
In some ways, Children's of Alabama is as familiar to Al Guarisco as his Daphne, Alabama home. Since his first stay – two hours after his July 11, 2001 birth – he has undergone 20 surgeries or procedures at the place he calls "my Children's Hospital."
Al's medical problems originated from a congenital diaphragmatic hernia. At 34 weeks gestation, during a perfectly normal pregnancy, an ultrasound revealed the birth defect, which is an abnormal opening in the diaphragm. Ninety percent of Al's right diaphragm was missing, so his liver and some of his intestines pushed into his chest and blocked the growth of one lung. He had a congenital heart defect as well. Shortly after a high-risk delivery at UAB, Al transferred to Children's Neonatal Intensive Care Unit. Ten days later, doctors prepared Al's parents, Laura and her husband, Michael, for the worst. "They sat us down and said, 'We're not giving up, but we really don't think he's going to survive,'" Laura says. "That was the hardest day."
Three days later, Al stabilized. Then three months later – after two weeks on a heart-lung bypass machine, six weeks on a ventilator, and four surgeries – he went home, with an oxygen tank, a monitor and a feeding tube. At 19 months, Al was taken by ambulance to Children's for a bowel obstruction. By age 2, he'd lost all hearing. "Once again, Children's was there for us," Laura says. At age 2 years and 9 months, Al received his first cochlear implant – a surgically implanted electronic device for severe to profound hearing loss.
The little boy, who had nearly died as a newborn, was a trooper, says his otolaryngologist and ear surgeon, Dr. Audie Woolley, as were his parents. "They had already survived the worst part," Dr. Woolley says. "Deafness was just another obstacle." Speech therapy, which required weekly eight-hour round trips for a year and a half to Children's of Alabama, wasn't easy on the family, says his audiologist, Emily Rector. But his parents are dedicated, and Al is "a fighter." By the time he was 5, Al was speaking like a normal 5-year-old.
Al required other therapies as well, including feeding therapy, to catch up physically with his peers. He has seen a neurologist, a neurosurgeon and an orthopedic doctor as well. "If you need the best, you need Children's of Alabama," Laura says. At age 4, Al was diagnosed with failure to thrive, so his feeding tube was reinserted. Then his congenital heart defect, which was a hole in his heart, was repaired at UAB. (If done today, it would have been performed at Children's new Joseph S. Bruno Pediatric Heart Center.) At age 5, Al was diagnosed with growth hormone deficiency. "Initially he was well below the growth curve, says his endocrinologist, Dr. Joy Atchison. "He's really a normal size kid now." When Al was 6, he contracted pneumonia, which resulted in another ambulance ride to Children's.
At age 7, Dr. Woolley implanted Al's second cochlear device. Then, last spring, Al contracted a lung infection, which required a minor procedure – his 20th at Children's.
Nowadays, Al appears as healthy as his three younger brothers. "He's a great example that you can have very positive outcomes from very complicated diagnoses," Dr. Atchison says. Al is, and has always been, in a regular classroom. His lung reserve is limited, but he was on a swim team and took gymnastics for several years. He played piano as well. "Yes, my 'deaf' child took piano lessons," Laura says.
Al still visits Children's a couple of times a year to see his pulmonary and endocrinology physicians. And his mother, who is a pediatric nurse, encourages other parents to take their children there as well.  "We've seen so many doctors in so many areas," Laura says. "You're worried, but you know that Children's doctors are going to take care of your kid."