Children's on 3rd Outpatient Center
---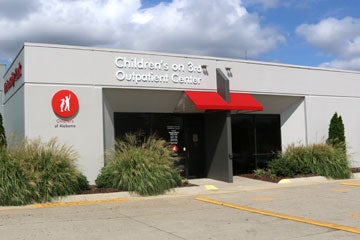 Children's on 3rd Outpatient Center
PT & OT • Hearing & Speech • HEAR Center
1208 3rd Avenue South
Birmingham, AL 35233
205-638-7500
FAX 205-638-2077
Office Hours are Monday - Friday 8:00 a.m. - 4:30 p.m.
---
Specialty Clinics
To reschedule an appointment: 205-638-7527
PT & OT - 205-638-9596
Speech/Language Pathology - 205-638-6745
Audiology or HEAR Center - 205-638-5815
What to Bring to an Appointment
Doctor's name(s)
Insurance card
Co-payment for insurance, if applicable
List of child's medication(s)
Any equipment your child uses such as hearing aids, cochlear implants, splints, walkers, wheelchairs, special feeding utensils
List of questions you may have
Books or games
Supplies your child might need such as snacks, formula, diapers, etc.
Insurance and demographic (address, phone number, etc.) information is confirmed at every visit.
---
Permission to Treat
At least one parent or legal guardian must accompany all minor patients.
If someone other than a legal guardian or parent will accompany your child, please ensure you provide them with a written, signed "Permission to Treat" slip.
Please include the name of the person who will accompany your child as well as their relationship to your child in the permission slip.
---
Insurance/Payment/Referral/Billing
Please make sure you have a referral from your physician before the specialty visit, if this is required by your insurance. Know the services your insurance plan covers so that you can prepare for and be involved in the care of your child at Children's of Alabama.
You may receive more than one bill for the care provided to your child at Children's of Alabama. The bill you receive from Children's of Alabama will not include the doctor's fee or reading fee for any x-ray or lab work. If you have questions about your Children's bill, please call: 205-638-9139.
For those with Medicaid, your coverage must be active with:
Current EPSDT (Screen) A Medicaid Referral from your current primary medical provider (PMP) or the specialist indicated on the Medicaid Referral Form
---
Parking
Free surface lot patient parking/handicapped parking is available in the front of the facility and across the street
---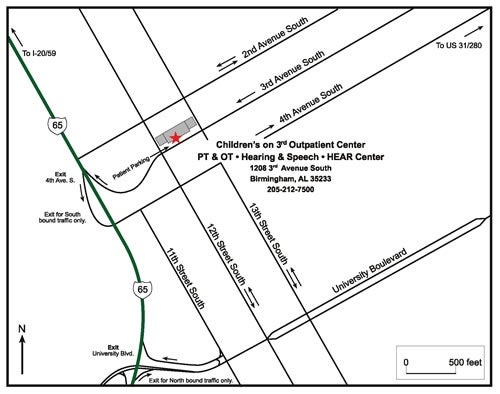 Driving Directions
Traveling East & West on I-20/59
Take I-65 South towards Montgomery.
Exit I-65 at the 4th Avenue South Exit.
You will be traveling East on 4th Avenue South.
Turn left onto 13th Street South.
The parking area entrance will be on your left after you cross 3rd Avenue South
Traveling South on I-65
Take exit 259-B (4th Avenue South).
You will be traveling East on 4th Avenue South.
Turn left onto 13th Street South.
The parking area entrance will be on your left after you cross 3rd Avenue South
Traveling North on I-65
Take exit 259-A (University Boulevard).
You will be going East on University Boulevard.
Turn left onto 13th Street South.
The parking area entrance will be on your left after you cross 3rd Avenue South
Traveling West on U.S. 280
Take Highway 280 to Highway 31 North to Birmingham (also called the Elton B. Stephens "Red Mountain" Expressway).
Exit at 3rd/4th Avenue South exit
Take a left onto 3rd Avenue South
Turn right on 13th Street and the parking area entrance will be on your left