Cardiovascular Child Life
---
Our Goal
The Child Life Program at Children's of Alabama recognizes that illness and hospitalization are stressful events in the lives of children and their families. By using age appropriate education, preparation and supportive activities, we strive to minimize that stress and help children and their families cope positively with their healthcare experience.    
Child Life Specialists are part of the health care team. They are professionally trained in understanding and meeting the unique needs of children and teens in the healthcare environment. All Child Life Specialists are required to have a minimum of a bachelor's degree in child life, child development, child and family studies or related field. The Child Life Council provides professional certification for Child Life Specialists (CLS).
Our Services
Preparing children, teens and families for hospitalization, procedures, and surgeries in ways they can understand.
Coordinating a pre-operative visit to help prepare your child for surgery. (May schedule a tour through the surgeon"s office)
Providing emotional support during and after procedures or stressful events.
Providing opportunities for medical play, helping children better understand the health care experience by addressing misconceptions and answering questions about their experiences.
Providing play opportunities and peer interactions in the playroom, the adolescent activity room and at bedside.
Providing sibling support, including education regarding patient's diagnosis, treatment, and the hospital environment.
Advocating for family-centered-care.
Offering emotional support to parents, siblings, and other family members.
Coordinating holiday, entertainment, donations, and special visitor events to encourage normal development and a sense of FUN in spite of challenging circumstances.
Coordinating volunteers to give families breaks, help provide infant stimulation, and play activities
for patients.
Our Team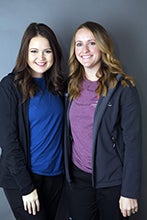 Our Child Life Team works to help children and families cope with the stress and uncertainty of illness and hospitalization by:
Promoting normal growth and development through therapeutic and recreational play
Providing opportunities to help children increase their self-esteem and maintain appropriate independence
Advocating for non-medical needs of patients and families
Increasing patients' and families' understanding of hospital experiences
Contact Us
Children's of Alabama
Department of Cardivascular Services
Child Life Program
1600 7th Avenue South
Birmingham, AL 35233
205-638-3434
Learn about the Sunshine School.