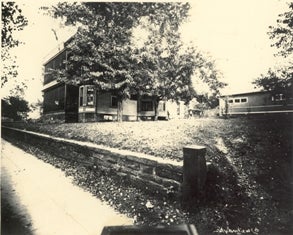 Holy Innocents Hospital for Children, 1911
Identified in a 1940s newspaper article as "The Place Where Miracles Happen," Children's of Alabama has played a critical part in allowing Alabama children to live happy, healthy lives for more than a century.
Holy Innocents Hospital for Children, as Children's was then known, originally operated under the auspices of the Episcopal Church of Alabama. It was founded in 1911 when Rev. Carl Henckell, pastor of All Saints Church of Birmingham, sought a solution to the growing need in his community for quality health care for children, especially those from poor families. Henckell joined Rev. Raimundo de Ovies, rector of St. Andrews Church, and Dr. James E. Dedman, health officer of the City of Birmingham, in founding the organization. The hospital opened its doors in 1912 in the All Saints' small parish house of Birmingham's Southside and provided free medical care. An all-female group of volunteers did whatever was needed to operate the charity hospital, from scrubbing floors to sitting with sick children. The small quarters soon dictated a move for the hospital to a nearby 10-room frame house that could accommodate up to 12 beds.
Following a successful fundraising campaign chaired by Birmingham's Caroline (Mrs. Crawford) Johnson, the house was renovated to more than double the number of patients it previously served. In addition to providing space for three patient wards, the hospital also added a new kitchen, a research area, and an operating room that was reported to be the best in the South for children. In 1914, the hospital changed its name to Children's Hospital, reflecting an amicable separation from the Episcopal Church's sole financial support.
As efficient nurses clad in crisp white, floor-length uniforms and signature starched white caps scurried from one white metal bed to another dispensing loving comfort and care for their young patients, fundraising for the facility was taken on by the hospital's all-woman executive board. By now, the facility was serving 170 patients a year with doctors' services donated. In just one year, the patient load had again doubled.
In ensuing years, the number of infants, toddlers and older boys and girls who needed Children's Hospital continued to grow. From tonsillitis to injuries, from measles to scarlet fever to diphtheria, the medical needs of Alabama's youngest never slowed. Antibiotics were still a miracle of the future and surgery was not yet an established practice.
It operated through the generosity of private citizens, civic organizations and the tireless work of volunteers who organized doll bazaars and charity balls as fund-raisers. In 1923, Jefferson County's newly established Community Chest—today's United Way of Central Alabama—designated Children's Hospital as one of its first beneficiaries. Creating financial stability for the hospital for the first time, the organization reimbursed the hospital for the difference between a patient's total charge and what his or her family could afford to pay.
By July 1924, the hospital was able to relocate to a new, two-story brick and concrete building it had built on the corner of 17th Avenue and 30th Street South with donations from the community. This $75,000, 50-bed facility gave area children expanded access to the latest medical care with the most caring of providers. It opened its first free clinic—an outpatient ward—in 1925. And just eight years later, the hospital opened a second building at the site, raising bed capacity by 50 and adding urgently needed surgical facilities, nursing quarters and an outpatient clinic. About this time, Children's became a member of the American Hospital Association as the medical world was experiencing major breakthroughs in care, including the invention of penicillin.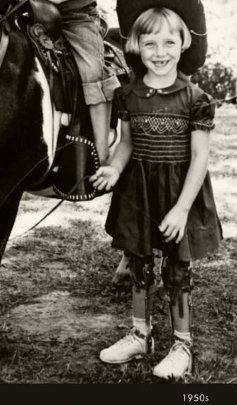 Despite serious shortages of many supplies and equipment prior to and during the World War II years, Children's patients were never denied anything that could provide them with the best medical care, even when the scourge of polio necessitated the use of iron lungs and special care. Well-trained medical professionals, whose bond with patients transcended the usual medical relationship, were complemented by caring volunteers who were always on hand with a reassuring smile and book or two at ready.
The hospital's two operating rooms were the scenes of many life-saving procedures, but none as unique as the operation in 1948 on a six-week-old infant girl to rearrange misplaced organs in her tiny body. Without the surgery, life expectancy for the five-pound, five-ounce baby would have been mere weeks.
A milestone in medical care was passed in 1955 with the advent of polio vaccines. It would not be long before Children's Hospital, no longer needing iron lung machines, was able to return the antiquated machines to their owner, the National March of Dimes Foundation.
In 1961, Children's moved to its present location on 7th Avenue South in Birmingham, a four-story, 100-bed facility. In its move, the hospital made an agreement to provide pediatric care for the University of Alabama and University Hospital patients while serving as a learning and teaching resource for the University of Alabama School of Medicine. By 1967, UAB had become an independent institution and University Hospital had phased out most of its pediatric beds. A grant from the Meyer Foundation made possible the addition of a fifth floor and a new two-story wing in the late 1960s, adding capacity for another 60 beds.
---
The '70s and '80s: New Opportunities
The 1970s and 1980s brought new opportunities to Children's. Throughout the '70s, medically historic vaccinations were added to polio vaccine including vaccines for rubella, chicken pox and pneumonia. Although these diseases were being prevented or greatly reduced, the hospital's beds remained full, their need continuing to grow as the hospital was, as it is today, the only freestanding facility providing specialized medical care for ill and injured children across the state. It became apparent that Children's must step up to new challenges to continue the highest level of health care possible in a changing world.
Once again, Children's Hospital changed its name and logo. The Children's Hospital of Alabama better reflected the medical facility's growing service area. It added a new dialysis unit, a Critical Care Transport System, an innovative One-Day Admission Center, and a Children's Center for the Hearing Impaired. By 1977, patient admissions were well over 12,000; clinic visits reached approximately 90,000, including 50,000 emergencies.
In 1980, the hospital announced its most financially ambitious undertaking, unveiling plans for a $24.5 million expansion to include an eight-story tower and 428-vehicle parking deck. Other additions would include an expanded emergency facility, burn unit, intensive care units for infants and children and a pediatric speech and hearing clinic. Children's of Alabama also planned to house the Child and Youth Project, the State Crippled Children's Program in Birmingham and the Sports Medicine Program. Football legend Bart Starr was named honorary chairman of the expansion campaign.
During the same year, Children's became one of only two hospitals in the U.S. to offer dialysis treatments for patients at home, a major breakthrough for children whose frequent hospital visits were disruptive to busy little lives.
Children's broke ground for its new facility in August 1980, but not before hospital employees had invested $240,600 of their own money toward the building program. The newly expanded facility opened its doors in 1982.
Just one year later, Children's introduced a critical care transport system to provide critically ill or injured pediatric patients with emergency treatment and rapid access to the hospital via fixed-wing aircraft or mobile intensive care units. Also in 1983, Children's joined 20 other pediatric hospitals as an original affiliate of the Children's Miracle Network (CMN; today Children's Miracle Network Hospitals, CMNH), which was founded by the Osmond family to benefit children's hospitals across the nation through fundraising telethons and associated programs. In 1989 the telethon generated pledges totaling more than $1 million.
Continuing as a leader in providing pediatric medical care, Children's became the first pediatric facility in the Southeast to provide Magnetic Resonance Imaging (MRI) in 1989. A new diagnostic procedure at the time, MRIs, which require no radiation, quickly gained acceptance as the preferred medical option for viewing highly detailed images of children's soft tissues, bone, fat, muscles and internal organs.
The face of Children's changed again in 1989 as its lobby was remodeled to welcome visitors in a spacious two-level atrium. At the same time a new tower expansion expanded inpatient capacity to 190 beds.
---
1990—2007
In 1991, a new 190,000 square-foot Ambulatory Care Center (today called the Lowder Building) opened featuring a 12-room surgery suite and a 29-bed, one-day admission center opened. Many of the hospital's outpatient clients were relocated to this site and, thanks to the fund-raising efforts of the Alabama District of Kiwanis International; the hospital added a helipad to ensure the fastest possible treatment for critically sick or injured children.
Abused children and those at risk for abuse are the special focus of Children's Hospital Intervention and Preventions Services (CHIPS), created in 1993. This clinic, sponsored by the Alabama Forestry Association and the Alabama Loggers Council, is staffed by specially trained counselors, doctors, social workers and nurses to help and heal young patients.
Throughout the 1990s, exciting new facilities and services were added to Children's Hospital including a modern outpatient pediatric imaging center; Children's South Pediatric Outpatient Center; and one of the nation's first Cochlear Implant programs, providing a sense of sound to profoundly deaf or severely hard of hearing children. The Amelia Center, providing individual and family counseling to children and teens who experienced a death or to adults attempting to cope with the death of a child, was established in 1997.
A new century of pediatric care dawned in 2000 with the opening of the five-story Children's Center for Research and Innovation and Children's Harbor Family Center, located on the corner of 6th Avenue South and 16th Street on Children's downtown Birmingham campus. In 2003, the hospital announced a $38 million expansion that added 50 beds to the 225-bed hospital and enlarged the emergency department by 30 percent. Children's Hospital Pediatric Rheumatology Clinic was established in conjunction with UAB and the Arthritis Foundation in 2007. Today, the fast-growing clinic is among the largest of its type in the United States.
Dr. Jim Dearth, who guided the growth of Children's for more than 20 years as its chief executive officer, retired in 2007, transferring the responsibility to ensure the hospital's hallmark superlative care to Birmingham businessman Mike Warren.
---
2008—2013
With a focus on providing the best in care providers—doctors, nurses, technicians and others—complemented by the best medical equipment, procedures and facilities possible, the difference Children's has made in caring for Alabama youngsters has been second to none.
In 2008, the hospital celebrated the 25th anniversary of Children's Critical Care Transport Team that, employing its own branded helicopter, ensures that patients receive the fastest possible transportation to waiting medical teams.
The hospital's nursing staff also had reason to celebrate that year. The American Nurses Credential Center's Magnet Recognition Program honored Children's with the Magnet designation for excellence in nursing services. Establishment in 2008 of the Children's Pediatric Nursing Hall of Fame, one of the first hospital-based pediatric nursing halls of fame in the country, provided a way to honor the dedication and professionalism of outstanding nurses such as Chief Nurse Executive Surpora Sparks Thomas, its first inductee.
Children's ECMO (Extracorporeal Membrane Oxygenation) Program acquired a new, state-of-the-art ECMO machine that year, an integral component to the treatment of patients with severely diseased or damaged hearts or lungs.
And 2008 was the year Children's opened a 8,759-square-foot expansion to its Neonatal Intensive Care Unit. Partial funding for the expansion was provided by the Colonel Harland Sanders Foundation, Canada.
Also in 2008, the hospital's most significant expansion to date was announced. Children's $100 million "Keeping Promises" capital campaign focused on the addition of 750,000 square feet, which was the largest health care construction project in Alabama. Twenty-five million dollars of those funds were donated by Alexander City's Ben and Luanne Russell, and the expansion was named the Benjamin Russell Hospital for Children in honor of Mr. Russell's grandfather. The campaign concluded two years earlier than its expected end in 2009, raising more than $110 million.
Joining the initial support of the expansion by the Russell family were major supporters: the Crippled Children's Foundation/Monday Morning Quarterback club; Raymond and Kathryn Harbert; Phillip and Heather McWane and McWane, Inc.; Joseph S. Bruno Charitable Foundation; Hugh Kaul Foundation; and the Thomas H. and Jarmon F. Lowder Foundation.
Further reflecting the area it serves and the services it provides, the organization changed its name to Children's of Alabama in 2011. By that year, patients were making more than 634,000 outpatient and 14,000 inpatient visits to the hospital.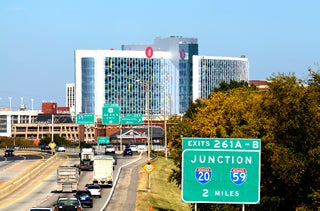 The expansion made possible by the "Keeping Promises" campaign, which opened in August 2012 and enlarged capacity from 275 patient beds to 332 beds plus 48 neonatal intensive care unit bassinets, also made possible the addition of two services: pediatric transplant and pediatric cardiology. Both additions made Children's of Alabama a comprehensive pediatric health care facility. Some of its nationally renowned premier programs include the Alabama Center for Childhood Cancer and Blood Disorders, the Lowder Blood and Marrow Transplantation Program, comprehensive neonatal surgical center and the fast-growing rheumatology program.
In 2011, U. S. News and World Report ranked six of Children's divisions—pulmonology, neurology and neurosurgery, kidney, heart and heart surgery, gastroenterology, endocrinology—among the best pediatric hospital programs in the nation. This was the first time Children's participated in the ranking since the program was introduced in 2007.
The growth over the past century of what began as Holy Innocents' Hospital on Birmingham's Southside to become one of the nation's 10 busiest pediatric hospitals in the nation—including Alabama's only pediatric trauma center and the only pediatric burn center in the Southeast—is only a prelude to the medical accomplishments that lie ahead for Children's during the next 100 years and beyond. Passion, love, hope—all words that have guided the way for Children's staff and its legion of volunteers since its founding—continue to make a difference in the lives of children in Alabama. Ahead are new discoveries and new medical advances that will create a new era of medical care for the children of Alabama.
---
2014-2021
The collaborative efforts between Children's and UAB continued to strengthen as both institutions pursued their joint mission — to offer world-class pediatric health services in an environment that fosters world-class research, excellence in medical education, and access to leading-edge treatments for pediatric illnesses and injuries. With facility and technology upgrades underway, the focus shifted to recruiting renowned physicians and scientists essential to continued success and growth.
In 2014, the Pediatric and Infant Center for Acute Nephrology (PICAN) opened to provide specialized care for children and infants with acute kidney disease. The PICAN uses a multidisciplinary team of physicians, nurses and dialysis experts to provide state-of-the-art comprehensive clinical care to children whose kidneys do not function properly due to disease or injury. Through ongoing research, the center can employ the latest equipment and therapies to treat these young patients who have a sudden loss of kidney function. In addition, the center educates other pediatric centers across the country on ways to maximize efficacy of the therapy while reducing any potential risks.
In 2015, children with juvenile arthritis, autoimmune disorders and other rheumatologic conditions gained improved access to expert care through a new pediatric rheumatology clinic in Mobile.
In 2016, Children's introduced the Sensory Friendly Pathway to reduce stress for children with autism and other sensitives when they visit the Emergency Department. Patients have access to fidget tools, weighted lap blankets and noise canceling headphones. The Sensory Pathway has since been expanded to One Day Surgery and several inpatient units throughout the hospital.
In 2017, Children's of Alabama and UAB opened a larger facility to house the Child Health Research Unit (CHRU), a partnership between Children's, the UAB Department of Pediatrics and the UAB Center for Clinical and Translational Science (CCTS) to meet the growing needs of pediatric researchers. The expanded unit will reduce barriers for Children's and UAB researchers to conduct rigorous clinical and translational research in childhood diseases.
The Park, Children's new green space, opened below the crosswalk connecting the Children's Harbor and McWane buildings off Sixth Avenue. It is used by select patient populations as well as the onsite childcare center for employees, Near & Dear.
Children's launched COACHES – Children's of Alabama Community Healthcare Education Simulation – to train community healthcare providers treating pediatric patients at their hospitals. Trainees participate in realistic pediatric scenarios in their own environment.
Over the span of a decade, Children's experienced a significant growth spurt among employees and staff. In 2007, the workforce totaled 3,206. By 2017, the workforce had grown to – a 50 percent increase.
In 2018, Children's continued to expand its services to the community. It launched the he Psychiatric Intake Response Center (PIRC), located in the Emergency Department, as a confidential psychiatric response center designed to assist patients, their loved ones and/or caregivers and community providers in finding the appropriate level of mental health care. These services are provided via telephone or in person by licensed mental health clinicians trained to assess a child or teen's mental, emotional, and behavioral needs and recommend the best treatment options. By 2020, PIRC staff had identified mental health providers in every county.
That same year, Children's partnered with the Lakeshore Foundation to provide pediatric clinical and therapy services on the Lakeshore campus. Children's at Lakeshore serves children and adolescents with acute onset or chronically disabling conditions who can benefit from the combination of a medically-based model of care and community-based healthy living and transitional services. This unique collaboration is designed to help each child achieve their highest level of independence.
Children's South Pediatric Outpatient Center celebrated its 20th anniversary in 2019. The facility has grown from originally handling 1,000 surgeries per year to 8,000 surgeries per year. The number of operating rooms grew from two to six and from three to 18 specialty clinics. The Pediatric Imaging Center expanded its services from only x-ray exams to additional services such as CT, MRI, ultrasound, fluoroscopy exams and sedation services.
The Physical and Occupational Therapy Department introduced its new Robotics and Mobility Program (RAMP). Children's was only the second pediatric program in the Southeast to offer an advanced computer-driven exoskeleton for rehabilitation use. The exoskeleton and other advanced equipment is ideal for children who have some upper and lower body strength, and/or have been diagnosed with a spinal cord injury, a traumatic brain injury or cerebral palsy.
In September 2019, the James C. Lee III Building opened for more than 200 non-clinical support service employees, many of whom have been located off Children's main campus since construction began on the Benjamin Russell Hospital for Children building in 2008. The six-story, 115,000-square foot office building put Children's in position to respond to the healthcare needs of Alabama's children and their families for the next decade and beyond. With the addition of the Lee Building, Children's campus facilities total more than 3.5 million square feet, making it one of the largest pediatric medical facilities in the country.
In early 2020, Children's relocated its outpatient behavioral health services to Patriot Midtown, doubling the size of the existing location. Clinical staff at this office includes a team of pediatric psychiatrists, psychologists, licensed professional counselors and nurse practitioners. Also that year, Behavioral health opened its Partial Hospitalization Program, the Sim Center renovated its space, and the CHIPS Center moved to a larger location.
By March of 2020, the COVID-19 pandemic impacted all aspects of life across the globe. To respond, Children's implemented a staff density reduction plan, limited outside visitors and worked with providers and patient families to facilitate the sudden demand for telehealth. As the calendar flipped to 2021, the promise of effective vaccines helped return the hospital to pre-pandemic activity levels.
And in spring 2021, Mike Warren, president and chief executive officer announced his retirement from the state's only freestanding pediatric hospital, a position he has held since January 2008. Tom Shufflebarger was named CEO and president, continuing the strong legacy of providing care for ill and injured children from throughout the region, ready to face the challenges of modern healthcare, while remaining firmly dedicated to providing the highest standards of care for patients and their families.