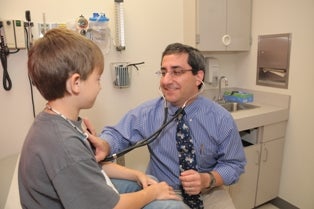 Location: Children's Of Alabama, Clinic #7
Appointments: 205-638-9781
Clinic Schedule
Tuesday: 8:00 a.m. – 12:00 p.m.
Thursday: 8:00 a.m. – 4:00 p.m.
Hypertension in children can damage the heart, kidneys, eyes and brain and is more common than most people suspect. We provide individualized screening and therapy and use non-pharmacologic (diet and exercise) and pharmacologic (blood pressure medications) depending a child's medical needs. We have full service laboratory (blood and urine testing), imaging (ultrasound, echocardiography and specialized testing) and ambulatory blood pressure monitoring to diagnose the cause of high blood pressure and manage children with the assistance of nurse educators, nutritionist and exercise specialists.
Treating the following types of hypertension conditions:
Essential
Obesity-related
Secondary
Resistant
Complete evaluation including lab work and imaging
Caring for children from birth through 18 years
Referrals should include:
Those with elevated blood pressure on 2 or more consecutive visits
Those with elevated blood pressure and known cardiovascular disease, diabetes, urologic or renal disease
Those with elevated blood pressure and family history of complications of hypertension
Athletes with elevated blood pressure
Our Team
Our multidisciplinary Hypertension Clinic is staffed by the Nephrology Team at Children's of Alabama – ranked among the best in the nation by U.S. News & World Report.