Help Strengthen Families and Prevent Child Abuse
April 13, 2023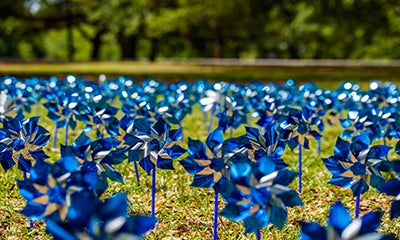 Birmingham, Ala. (April 13, 2023) — April is Child Abuse Awareness Month. According to the Child Maltreatment Report of Alabama, more than 26,000 cases of suspected abuse were reported in 2021. However, the actual number may be higher because many instances of abuse go unreported.
Debra Schneider, the executive director of Children's Hospital Intervention and Prevention Services (CHIPS) at Children's of Alabama, says child abuse is when a child under the age of 18 in Alabama is intentionally harmed or neglected. She says there are four types of child abuse:
Physical

Sexual

Emotional

Neglect
Schneider says some signs of physical abuse can be bruising or unexpected marks on a child, unexplained injuries, or a child reporting injuries. She says warning signs for physical abuse might include a child wearing long sleeves or a jacket in hot weather, and this could be a way to cover up bruising or marks. For sexual abuse, complaints of pain, trouble walking, and knowledge of sexual language beyond the child's developmental age. A new onset of fears or notable changes in behavior. Schneider recommends that parents and guardians pay close attention to whom their child spends a lot of time with. She warns that many child abuse symptoms are like symptoms of other things, but she says parents and guardians should be concerned if they see a pattern.
Since 1995, the CHIPS Center has served as an outpatient clinic for children who have experienced suspected abuse and their families. Last year, the CHIPS Center counseled hundreds of patients and consulted on dozens of medical cases. 
"We have a specially trained team of physicians, nurse practitioners, nurses, social workers and counselors," said Schneider. "We have forensic medical exams, therapy, and conduct prevention education in the community and schools."
The staff works with law enforcement, the Department of Human Resources and child advocacy representatives.
Schneider encourages anyone who suspects abuse to report it immediately. All it takes is a suspicion of abuse; the caller does not need specific evidence. Anyone can report suspected abuse to the local Department of Human Resources. You can also call the Childhelp National Child Abuse Hotline at 1-800-422-4453. If a child is in immediate danger, call 911.
Schneider says you will see a lot of royal blue ribbons, pins and pinwheels throughout the month.
"This is to remind adults that we need to be aware of child abuse," said Schneider. "The pinwheels remind us of happy childhoods that children deserve, and they also remind us of children who have been victims, survivors, or rescued from abuse."
Schneider offers advice to parents.
"As adults, we need to let them know that it is our responsibility to keep kids safe; it's not the kids' responsibility," said Schneider. "We need to let them know they can communicate with adults. We need to listen to them if they are saying they are uncomfortable in a certain situation, don't want to be around someone, we need to see what's happening."
For more information on the CHIPS Center, call 205-638-2751 or visit childrensal.org/CHIPS.