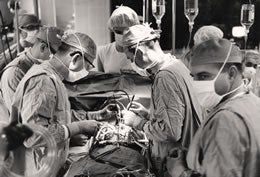 Dr. Champ Lyons performing cardiac surgery at UAB
The storied history of UAB Congenital heart Surgery dates back to Dr. Champ Lyons and the early days of open heart surgery. In 1966, John Kirklin, MD, a cardiac surgical pioneer who performed the world's first series of open heart operations using a heart lung machine, moved from Mayo Clinic in Rochester, Minnesota to UAB. He joined forces with pediatric cardiology pioneer Dr. Mac Bargeron to begin a dynasty in the care of patients with congenital heart disease. Kirklin and his colleagues made numerous seminal contributions, including the first computer automated care of cardiac surgical cases. Dr. Al Pacifico followed Dr. Kirklin as the Director of Cardiothoracic Surgery and Dr. Ed Colvin took over the mantel from Dr. Bargeron in pediatric cardiology. 
When Dr. James K. Kirklin was appointed Director of Cardiothoracic Surgery in 2006, he teamed with Dr. Yung Lau and his pediatric cardiology colleagues and Dr. Jeffrey Alten, Chief of Pediatric CV Intensive Care, to build a truly multi-disciplinary program that provides expert care across the spectrum of congenital heart disease from the fetus to the adult. Dr. Kirklin, along with his surgical, cardiology, intensivist, and anesthesia colleagues, created the vision of a single platform of care. They collaborated with Children's CEO Mike Warren and his powerful administrative team to create this spectacular platform with its epicenter at the new Benjamin Russell Hospital for Children.