Physical Therapy/Occupational Therapy
---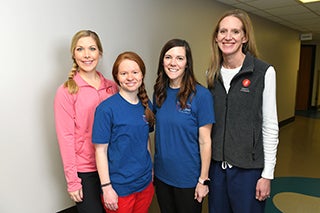 Pediatric Physical Therapists and Occupational Therapists have expertise in working with infants, young children, and adolescents with a variety of challenges. Those assigned to the cardiovascular units have specific training to work with children with cardiovascular conditions. Both PTs and OTs provide services that will improve development and skills so that children can participate in meaningful activities in their homes, schools, and communities.
Physical therapists focus on promoting development and movement skills. Occupational therapists focus on facilitating feeding/swallowing, fine motor, sensory-motor, and self-care skills.
For children with cardiovascular/cardiopulmonary disorders who are hospitalized to prepare for surgery or recover following surgery:
Physical Therapists will provide services aimed at improving quality and efficiency of movement, strength and endurance as well as preventing and combating de-conditioning due to prolonged hospitalization and decreased physical activity.
Occupational Therapists will provide services aimed at improving feeding and swallowing to promote adequate nutrition for growth and development, sensory processing, fine motor and play skills, and teaching effective ways to participate in daily routines of care so the child can care for him- or herself at an age-appropriate level (ex: self-feeding, dressing, bathing, grooming, etc).
Physical Therapists and Occupational Therapists support the family and work with other cardiovascular team members to:
Determine the plan of care and coordinate services to meet each patient's and their family's goals
Share information from the PT and OT perspective based on the evaluation, the patient's response to treatment, and strategies for integrating suggested activities into routine care
Assist in discharge planning by recommending and helping to coordinate follow-up services such as Early Intervention, specialty clinics, and outpatient therapy
Provide support and consultation to other professional caregivers, family members, and patients regarding

Appropriate developmental and supportive activities for the patient
Sternal precautions for positioning, movement and daily functional activities
Endurance and tolerance for exercise and movement
Use of assistive devices and splints