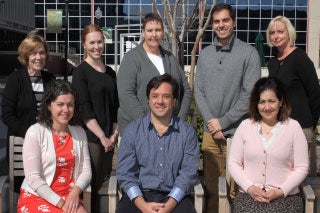 REPAIReD (Recombinant Erythropoietin Protects Against Kidney Disease)
REPAIReD is a NIH- NIDDK R01 funded study to look at kidney outcomes in 960 premature infants randomized to erythropoeitin vs. placebo. The major goal of this project is to assess the epidemology and mechanisms of AKI to CKD in extremely low birth weight infants.
For information, click here.
AWAKEN
Assessment of Worldwide Acute Kidney Injury Epidemiology in Neonates was a 3-month restrospective chart review on eligible critically ill neonates admitted to neonatal intensive care units from centers in the Neonatal Kidney Collaborative (NKC).
AWAKEN is the first research study from the NKC, an international collaborative multi-disciplinary group made up of neonatologists and pediatric nephrologist to investigate important questions related to neonatal AKI. (See below for more information regarding the NKC)"
For information, click here.
NINJA
Nephrotoxic Injury Negated by Just-in-Time Action
NINJA is a multi-site kidney injury reduction quality improvement initiative.
Baebies
"A novel digital microfluidic platform for multiplex acute kidney injury biomarker analysis
The goal of this project is to develop and evaluate a new "lab-on-chip" platform for measuring multiple molecules in blood and urine that may help the early detection of acute kidney injury in infants undergoing cardiac surgery.
Bioporto
The goal of this study is to assess if daily urine biomarker NGAL can replace daily serum creatinine measurements in children as the marker of choice in the epidemic of nephrotoxic medication (NTMx) exposure as a cause of acute kidney injury (AKI).
AWARE
The Assessment of Worldwide Acute Kidney Injury, Renal Angina and Epidemiology (AWARE) study, creates the first prospective international pediatric all cause AKI data warehouse and biologic sample repository, providing a broad and invaluable resource for critical care nephrologists seeking to study risk factors, prediction, identification, and treatment options for a disease syndrome with high associated morbidity affecting a significant proportion of hospitalized children.
For information, click here.
aHUS registry
An Observational, Non-Interventional, Multi-Center, Multi-National Study of Patients with Atypical-Hemolytic-Uremic Syndrome. Sponsored by Alexion Pharmaceutical.
Octaplas
An open-label, multicenter, Post-Marketing Requirement study to investigate the safety and tolerability of OctaplasTM in the management of pediatric patients who require therapeutic plasma exchange. This industry-funded, sponsored by Octapharma Pharazeutika Productionsges m.b.H, phase IV FDA-required safety trial will test the safety of pooled plasma in pediatric patients who receive plasma for therapeutic plasma exchange (TPE).
SCD
The major goal of this multi-center, pilot study sponsored by CytoPherx, Inc. is to evaluate the safety and efficacy of Selective Cytopheretic Device (SCD) therapy in pediatric patients with acute kidney injury (AKI) requiring continuous renal replacement therapy (CRRT).
NKC


The Neonatal Kidney Collaborative (NKC) is dedicated to improving outcomes in neonates at risk for acute kidney injury. Spearheaded by Dr. David Askenazi, the group has developed a robust infrastructure to support collaboration among an international network of neonatologists, pediatric nephrologists, obstetricians and pediatricians.
 
---
The Steering Committee is made up of nine international nephrologists and neonatologists:
David Askenazi, MD, MSPH - Chair
Professor, Department of Pediatrics, University of Alabama at Birmingham, Birmingham, AL, USA
Carolyn Abitbol, MD
Professor, Department of Pediatrics, University of Miami, Miami, Florida, USA
Namasivayam Ambalavanan, MD
Professor, Department of Pediatrics, University of Alabama at Birmingham, Birmingham, AL, USA
Jennifer Charlton, MD
Assistant Professor, Department of Pediatrics, University of Virginia, Charlottesville, Virginia, USA
Ronnie Gillet, MD, PhD
Professor of Pediatrics, Golisano Children's Hospital, University of Rochester Medical Center, Rochester, New York, USA
Jennifer G. Jetton, MD
Assistant Professor and Medical Director of the Pediatric Dialysis Unit, Department of Pediatrics, University of Iowa Carver College of Medicine, Iowa City, Iowa, USA
Alison Kent, MD
Professor, Department of Neonatology, The Canberra Hospital, Australian National University, Canberra, Australia
Maroun Mhanna, MD
Associate Professor, Case Western Reserve University – School of Medicine, Metrohealth Medical Center, Cleveland, Ohio, USA
David Selewski, MD
Assistant Professor, Department of Pediatrics, University of Michigan, CS Mott Children's Hospital, Ann Arbor, Michigan, USA