The Psychiatric Intake Response Center continues to grow after five years
March 1, 2023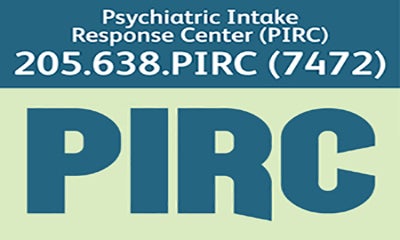 BIRMINGHAM (March 1, 2023) — March 1 will mark five years of the Psychiatric Intake Response Center (PIRC) serving the community. The free, confidential service links adult callers to mental health resources for their child or adolescent.
Cindy Jones, the director of the PIRC, says the center is the result of a collaboration between Children's of Alabama and the Anne B. LaRussa Foundation of Hope. She says the two organizations came together after seeing families struggle to find the right mental health resources.  A nationwide search led to two programs in Ohio that would be the model for creating PIRC.
When PIRC first opened, Jones says there were four full-time employees; now, the center has 14 full-time and part-time employees. She says that's just one aspect of the program that has seen tremendous growth.
"Growth has also come in the number of mental health providers we have identified, which is now statewide," said Jones. We have more than 1,600 mental health providers that we have identified in all 67 counties in Alabama."
Children's mental health is a concern in the United States, and access to mental health professionals is an issue for many children.  According to the Centers for Disease Control and Prevention, before the COVID-19 pandemic, 1 in 5 children had a mental health disorder, but only about 20 % received care from a mental health provider. In 2021, The American Academy of Child and Adolescent Psychiatry and the Children's Hospital Association declared a national emergency in child and adolescent mental health. Jones says having a center like the PIRC in Alabama is vital.
"The PIRC has licensed mental health professionals who are able to quickly assess what's going on and point someone in the right direction," said Jones. "Just taking the legwork out of it, being able to help them get from Point A to Point B, really makes a difference."
Jones says the PIRC therapists are licensed mental health professionals who answer the phones when someone calls looking for mental health resources in the community. They are also part of the psychiatric consult team in the emergency department. The therapists provide assessments and evaluations, and Jones calls their work some of the most significant achievements of the center.
"The PIRC is prepared to help especially during this mental health crisis, especially in rural Alabama," said Jones. "We've been able to help identify resources that some people may not have known existed."
 So, what will the future hold for the PIRC?
"We will continue to do the good work we are doing," said Jones. "We will continue to respond to what is still a mental health crisis for children right now, which means we continue to add and update our provider listing and help callers gain access to mental healthcare. We will also continue to provide great service in the emergency department."
The PIRC is open seven days a week. The number to call is 205-638-PIRC (7472). Remember, this is a free and confidential service.
Click on this link to download a PIRC reference sheet.