Odrezin leaves a legacy at Greenvale Brook Highland
July 12, 2022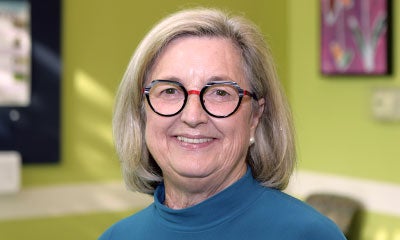 BIRMINGHAM (July 12, 2022) – You won't see Dr. Jamie Odrezin when you visit Greenvale Pediatrics Brook Highland anymore, but if you simply look at the building or walk down its hallways, you'll experience part of her legacy. Helping design the building in 1999 is one of the gemstones of her decades-long career. On June 30, she walked out of its doors for the final time as a pediatrician.
 
"It's not been easy at all. This has not been like: oh yay, I'm retiring," Odrezin said. "It was a very tough decision for me because I love what I do."
 
Odrezin loved her job so much that she didn't want to leave. But after more than two years of the COVID-19 pandemic, she realized that medicine was moving in a new direction. She said it was time to move over and know that the younger generation of physicians has another task ahead of them. For her, it was time to pass the baton.
 
Odrezin did not plan to become a pediatrician when she first entered medical school. In fact, she says she never intended to go into pediatrics. It was only after taking surgery rotations – she aspired back then to become a surgeon – that she realized she enjoyed the clinical side more. She also loved working with people, and that was the deciding factor.
 
"Pediatricians are the nicest group of people," she said. "And to work with pediatricians the rest of my life and take care of children is by far the best way to have a career."
 
For 39 years, that's what she did: listening to patients, empowering new moms, and addressing Type 1 diabetes – she's particularly proud of that. She built many close relationships along the way.
 
"My patients have been the most incredible part of my career," Odrezin said. "They are like family because we have close connections, we have close relationships. That's the hardest part: saying goodbye to those relationships."
 
One of those patients is following in Odrezin's footsteps. Dr. Tracey Butcher, who saw Odrezin as a teenager, will now care for many of Odrezin's former patients.  
 
"To have a chance to follow one of my mentors and one of the best pediatricians I have ever known is an honor and privilege," Butcher said.
 
Odrezin says it's a "perfect segue" to hand off her former patients to Dr. Butcher as she enters retirement. She'll have many memories of them and her time at the practice she helped design.
 
"I have absolutely loved being part of Greenvale and Children's of Alabama," she said.