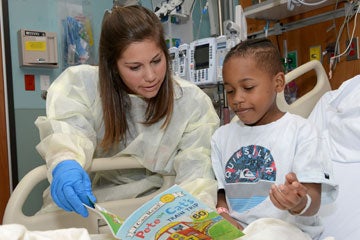 What do my donations to Children's of Alabama Foundation support?
For more information on how your donations support Children's of Alabama, please visit our Why Give page.  
Who does Children's of Alabama serve?
In 2020, Children's served patients from every county in Alabama, 42 states, and seven countries. 
Are my donations tax deductible?
Alabama Children's Hospital Foundation is a 501(c)(3) nonprofit organization. All donations are tax-deductible.
What is Team Children's?
Join Team Children's and become a Champion for Children's by turning an activity you love into a fundraiser. Whether you're celebrating a milestone or special occasion, honoring a loved one, participating in an athletic endeavor or want to get creative and fundraise your own way, it's never been easier to show your support for Children's of Alabama.
How can I start my own fundraising event for Children's of Alabama?
Thank you for your interest in raising funds for Children's of Alabama. Click here for more information on hosting a fundraising event or learn about creating a virtual fundraiser here.
Can I make my gift in memory or in honor of someone? 
Yes, see Honor & Memorial Giving for more information.
Can I designate my gift to a specific area of the hospital?
Yes, you can indicate the area/program you would like to support by making a note in the "Gift Designation" box on the online donation form or indicating on the memo line of your check. All gifts that are not designated will go towards our Annual Fund and be used to support the greatest needs of the hospital.
How can I include Children's of Alabama in my will or estate plans?
If you would like to make a planned gift by designating Children's of Alabama as a beneficiary through a will or trust; or if you are an estate attorney or advisor and need more information, please contact Coke Matthews at CMatthews@ChildrensAL.org, or call 205-638-9003.
How can my company get involved in supporting Children's of Alabama?
For information on how your company can get involved with cause marketing or event sponsorships, please click here.
Do you accept donations of toys, books, or other items?
Yes, click here for more information on donating items. Due to infection control and the safety of our patients, donated items must be new and unused in its original packaging and must be shipped directly to the hospital. 
How can I volunteer at Children's of Alabama?
Our Volunteer Services department coordinates all hospital volunteers.
Can I come to the hospital to distribute toys to patients or visit with patients as a service project?
At this time, non-essential visitors are not allowed at any Children's of Alabama's locations. If you have any questions please contact Donate@ChildrensAL.org. 
How can my school or community group support Children's?
There are many ways that your school or community group can raise money for Children's:
My child is a current or former patient of Children's. How can we give back? 
My question wasn't answered above. Who can I ask for more help?
For more information, please contact the Children's of Alabama Foundation office at 205-638-9183 or email Donate@ChildrensAL.org.