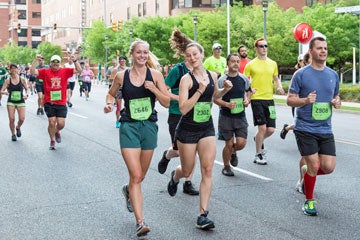 What is Team Children's?
Join Team Children's and become a Champion for Children's by turning an activity you love into a fundraiser. Whether you're celebrating a milestone or special occasion, honoring a loved one, participating in an athletic endeavour or want to get creative and fundraise your own way, it's never been easier to show your support for Children's of Alabama.
Download the Team Children's Guide for helpful tips to make your virtual fundraiser a success!
---
Easy Steps to Get Started
Register your online fundraiser by selecting Get Started at the Team Childrens Website.
Register and create a supporter account OR login with an existing account.
---
Kickstart your Fundraising
Set a fundraising goal that is personally meaningful to you.
Upload a picture of yourself and share your story— why are you fundraising for Children's of Alabama?
Utilize the Share feature on your page to easily share your page to your social media pages.
Send personalized invitations to donate to your friends and family.
---
Support a Fundraiser
Get started at the Team Childrens Website.
Click on Donate Now located in the top right and select which type of fundraising page you are looking for.
Search for team or individual page by name.
Donate to support fundraiser!