Children's Miracle Network
---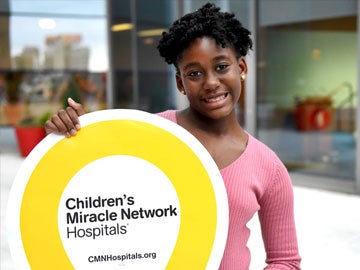 Children's Miracle Network Hospitals is an alliance of 170 children's hospitals in North America which collectively treat more than 17 million sick and injured kids each year. CMNH creates strategic partnerships with businesses and organizations whose individual locations then raise money for their local children's hospital.
Children's of Alabama was among the first hospitals to join Children's Miracle Network Hospitals in 1983 and since then more than $50 million has been donated to Children's through CMNH. Every dollar raised locally through CMNH campaigns, signature events and programs goes directly to Children's to provide the best health care possible to ill and injured children from across the state and Southeast by funding research, patient care and equipment. More information is available from Children's Miracle Network Hospitals or on our CMNH blog.
---
Our CMNH Partners
Since 1983, Children's of Alabama has raised over $50 million through various Children's Miracle Network Hospitals partnerships.
Featured Partners

---
How You Can Get Involved
Miracle Families
If your child is a current or former patient of Children's and you are looking for a way to deepen your connection to the hospital, please consider becoming a CMNH Miracle Family. The CMNH team has opportunities for patient families to attend events and/or share their Children's journey throughout the year. Every year, one Miracle Kid is selected to serve as our Children's Miracle Network Hospitals Local Champion. To learn more, contact CharlieAnn.Shepard@childrensal.org.
If you are a patient family who would like to give back to the hospital by fundraising, learn about Grateful Patient Giving or hosting your own fundraiser.
Extra Life

Extra Life is an online grassroots movement working to save local kids through the power of play. From video games to board games, Extra Lifers do what they love to raise money for Children's Miracle Network Hospitals. Participants fundraise year-round and pledge to game with one goal: to save and improve the lives of sick and injured kids. National Game Day is early November, but participants can also choose a game day that works best for their schedule! Sign up to play for Children's at extra-life.org. To learn more, contact Delaney.Haase@childrensal.org.

 

 

Dance Marathon

Miracle Network Dance Marathon is a movement powered by over 300,000 college students on 300 campuses across North America. These students work tirelessly throughout the year to raise funds one dollar at a time by making the ask to family and friends. Their hard work culminates in a 6-24 hour celebration on their campus, where participants have the opportunity to rally together as a community for their local Children's Miracle Network Hospital. Students involved in Dance Marathon gain valuable skills in fundraising, peer management, leadership, and communication. Interested in starting a Dance Marathon at your school? Contact Delaney.Haase@childrensal.org.

 

 

Play Yellow

Led by Jack and Barbara Nicklaus, the PGA TOUR and Children's Miracle Network Hospitals, "Play Yellow for Children's Hospitals" strives to bring the entire golf world together to help the 10 million kids treated at local children's hospitals each year. Whether you are an individual or group, PGA Professional, golf tournament, or golf manufacturer, there are simple ways for everyone with a passion for the game of golf to help change kids' health and change the future.For more information, please contact Emily.Hornak@ChildrensAL.org.
---
Contact Us
Whether you're a new partner that needs help getting started or an existing partner, Children's of Alabama can help you plan your fundraising initiative. Contact the CMNH Coordinator in your area.
Whether you're a new partner that needs help getting started or an existing partner, one of our CMNH team members can guide you in the right direction.
Emily Hornak, Director, CMN Hospitals
Carmen Maddox, Regional Manager (Southeast Alabama)
Laura Dunaway, Community Coordinator (North Alabama)
Charlie Ann Shepard, Community Coordinator
Crawford Daniel, Community Coordinator
Grace Graffeo, Community Coordinator
Delaney Haase, Community Coordinator