Pediatric Craniofacial Surgery
---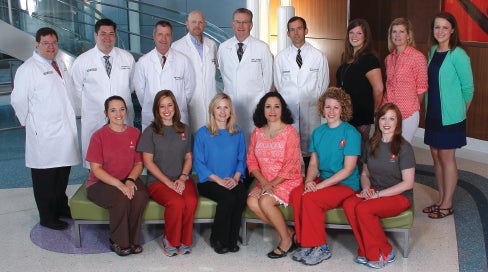 We are a state and regional leader in the care of children with craniofacial anomalies. Our multidisciplinary program is one of the largest and most active in the Southeast. Fellowship trained specialists in plastic surgery, pediatric neurosurgery, speech therapy, neuropsychology and genetics work together with parents to design an individualized care plan for each child.
Our surgical team has expertise in both open and minimally invasive (endoscopic) treatment of craniosynostosis, as well as experience in non-operative management of plagiocephaly. We have published and shared our extensive experience with complex congenital anomalies of the skull. Specialists in genetics and neuropsychology provide counseling and long term support for children and their families.
Conditions and Treatments
Apert Syndrome
Craniosynostosis
Crouzon's Syndrome
Moebius Syndrome
Pfeiffer Syndrome
Plagiocephaly
Encephaloceles
Open and Endoscopic repair
We are part of the multidisciplinary UAB Cleft and Craniofacial Program that includes plastic surgeon Dr. John H. Grant III, MD.
Craniofacial
Phone: 205-638-9653
Location:
McWane Building
1600 7th Avenue South
Birmingham, AL 35233
Dearth Tower Ground Floor
Clinic 14
First & third Friday of every month