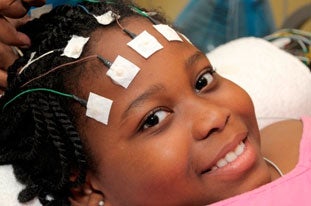 Frequently Asked Questions
When to call you doctor or nurse practitioner: Most providers want you to call if your child has breakthrough seizures or his/her seizures have changed in the way they look or how often they occur. If you feel that your child is having side effects to his/her medication, please let us know.
To contact your doctor or nurse practitioner, call the Neurology office: 205-996-7850. Your call will be answered by a receptionist. Most often she will need to take a message to give to one of the nurses to call you back. Please give her a phone number where you can be reached. To limit "phone tag", especially with cell phones, we recommend keeping your phone with you and turned on. For those with Caller ID: we recommend answering the phone even for "unavailable" or "unknown" callers; we may not be identified as Children's of Alabama or the Neurology Office on your Caller ID.
After regular office hours or on weekends: The Neurologist on call can be reached through the Children's of Alabama Operator: 205-638-9100. If you have not heard back from the doctor within 30 minutes after calling, please call the operator again. For life-threatening emergencies, call 911.
To talk with someone about hospital admission for Video EEG (the Epilepsy Monitoring Unit - or EMU): please call the main office at 205-996-7850.
To talk with the Epilepsy Surgery Coordinator to discuss surgical plans: please call the main office at 205-996-7850. For post-operative problems, call the Neurosurgery Office, 205-638-9653.
Medication refills: due to our patient volume, we recommend planning ahead for medication refills. It may take 48-hours for refills to be called in or for insurance paperwork to go through.
School forms and letters: please plan ahead for school forms. We usually need 72-hours to process paperwork.
Driver's license forms: Most providers want to see you within 30 days of completing this form. Please plan ahead by scheduling your appointment 8 - 12 weeks before the paperwork is due.
---
Admission Forms
Your Guide to 10 Harbert EMU
Pediatric Neurology Patient Questionnaire
Epilepsy Monitoring Unit Intake Form
Helpful Forms
Epilepsy & My Child Toolkit
Epilepsy & My Child Toolkit (Spanish)
Seizure Description Sheet
Seizure Log
Medication Log