Advanced Heart Failure and Transplant
---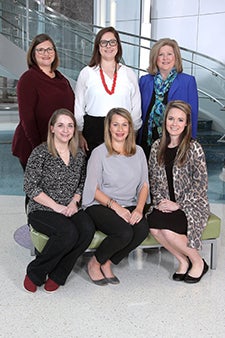 The Pediatric Advanced Heart Failure and Transplant team at Children's of Alabama has been caring for children suffering from end stage heart failure for many years and brings this extensive experience to bear for children with advanced heart disease their families.
The partnership between UAB and Children's of Alabama has also been providing pediatric heart transplant services for many decades, performing the first pediatric heart transplant in 1981. The program has completed 130 pediatric heart transplants since 1981 and has maintained survival rates well above expected levels. The program was also one of the earliest in the United States to successfully use Berlin Heart ventricular assist device technology in children and reported the first successful Berlin Heart Bridge to transplant for a child with single ventricle. These experiences led to the team's participation in a landmark study which was featured in the New England Journal of Medicine in 2012 and included two members of the UAB/Children's of Alabama Pediatric Heart transplant team as co-authors. In addition, the first successful Pediatric implant of the HeartWare ventricular assist device in North America was reported by the team. In our facility, cutting edge research and clinical expertise combine to produce the most modern approaches to care for these patients.
The historic opening of the state-of-the-art Benjamin Russell Children's Hospital and Bruno Pediatric Cardiac Unit in 2012 marked the availability of a beautiful and thoroughly modern facility that combined with our team to provide truly multi-disciplinary, family-centered and truly compassionate approach to care. The Cardiac Unit was designed with input from the UAB Pediatric Heart Team expressly for the purpose of state-of-the-art cardiac care for children and their families.
This facility provides a platform unique in that it streamlines care for children with heart disease across all ages and facilitates transition to adult care as the children with heart disease grow to adulthood. The Pediatric Heart Failure and Transplant team works directly with the outstanding adult Heart Failure and Transplant Program at UAB to ensure seamless transition to adult cardiac care.
Our staff is committed to excellence through the philosophy of providing healthcare to children that is as amazing as their potential. Our transplant team is made up of pediatric cardiothoracic surgeons, pediatric cardiologists, pediatric cardiac intensive care specialists, pediatric transplant infectious disease specialists, pediatric cardiac nurse practitioners, pediatric cardiac transplant coordinators, pediatric cardiac pharmacists, counselors, child life specialists, basic science researchers and statisticians and many other professionals representing a wide range of dedicated pediatric disciplines. This multi-disciplinary approach combines compassion and scientific and technical expertise to provide care to children with advanced heart failure of all ages and their families.
Resources
Preparing for a Heart Transplant
https://youtu.be/thtD9E0jiHo 
Caring for a New Heart
https://youtu.be/_Rn5F1fMdiM 
---
Physicians
Robert J. Dabal, MD - Surgical Director
F. Bennett Pearce, MD - Medical Director
Waldemar F. Carlo, MD
David C. Mauchley, MD
---
Advanced Practice Coordinators
Meloneysa Hubbard, MSN, CRNP, CCTC - Director
Sally Smith, DNP, CRNP, CCTC
Mariah Strickland, MSN, CRPN
Kimberly Sullivan, MSN, CRNP