Gastrointestinal Eosinophilic Diseases Program
---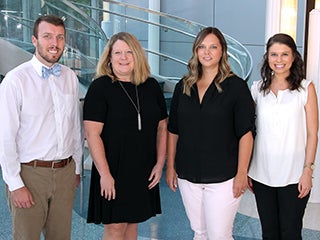 The Gastrointestinal Eosinophilic Diseases Program at Children's of Alabama is dedicated to providing excellent multidisciplinary care for children with eosinophilic gastrointestinal disorders (EGIDs). Our team includes experts in pediatric gastroenterology, allergy/immunology and nutrition. We serve patients from all of Alabama and throughout the southeastern United States.
Eosinophilic gastrointestinal disorders are characterized by a wide range of gastrointestinal symptoms, including nausea, vomiting, feeding difficulties, trouble swallowing, food impaction, abdominal pain, diarrhea and poor growth. Depending on the part of the gastrointestinal tract affected, the diseases can be called a variety of different names such as:
Eosinophilic esophagitis (EoE)
Eosinophilic gastritis
Eosinophilic gastroenteritis
Eosinophilic colitis
Our mission is to improve the quality of life for patients and families affected by eosinophilic gastrointestinal diseases. We offer comprehensive evaluation for patients suspected of having these diseases and for children who have a previously established diagnosis. We craft an individualized treatment plan in collaboration with the patient and family based on a thorough review of the patient history, physical exam, and testing such as gastrointestinal endoscopy, imaging, and laboratory evaluation.
---
Director: Dr. Nicholas CaJacob
Appointments:
NEW patient appointment
Phone: (205-638-5457
Fax: 205-638-9919