For Patients and Families - Inpatient Services at Russell and McWane
---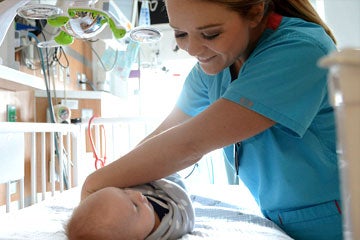 Welcome to Children's of Alabama. We hope this guide will be helpful to you while we share in your child's care. As you will see, we emphasize a "team approach" to ensure the best possible care for your child. We strive to care for the "whole child" – medically, psychologically, socially and spiritually. We know a hospital stay is often stressful and disruptive to your normal family life and can produce a lot of anxiety. Our goal is to make your stay as pleasant and stress-free as possible. To achieve this goal, we offer many personal services specifically designed for your convenience.
We encourage you to take notes about your child's care, and should you have any concerns during your stay, please call our Patient Relations Department at 205-638-9191 or dial "0" and ask to speak to a patient representative. Your feedback is genuinely valued and important to us so we can make sure we meet your needs and provide excellent service.
Here at Children's of Alabama, children are the center of our lives. Caring for children is all we do. We pledge to do our best to provide the finest pediatric health care available to your child. Every child is unique and special in our eyes.
---
Information You Should Know
Parking
One parent may park in the 7th Avenue Deck or the 5th Avenue Deck at no charge. The rates are $1 for up to an hour, $2 for up to two hours, $3 for up to three hours, $4 for up to four hours and $5 for more than four but less than 24 hours. The cost of getting out of the deck without a validated ticket is $25. Have your parking ticket validated at one of the Clinics or Information Desks. You can pay at one of the kiosks located on Main Street near the 5th Ave and 7th Ave Crosswalk.
When exiting the parking deck, insert your ticket stub into the kiosk at the exit gate. When your ticket has been paid or validated the gate arm will rise, allowing you to drive out of the parking deck.
The parking machines do not rely or recognize green arm bands. PARKING TICKETS MUST BE VALIDATED OR PAID.
*Children's provides 24/7/365 valet services for patient families visiting our Emergency Department located at the corner of 5th Avenue South and 16th Street. Valet services are also provided for guests who use wheelchairs or other mobility assistance devices to get around the Russell Campus. This is a free service to our guests.*
Patient Education
Patient Health and Safety Information is located on Main Street near the 5th Avenue Crosswalk. It provides health education information for patients, families, staff and the community. For more information, call 205-638-9377.
Visitation
Effective March 2021, please refer to our COVID-19 resources page for the most current visitation guidelines. (ChildrensAL.org/covid-19-visitation-information) 
Children's encourages parents/support person(s) to spend as much time as they can with their hospitalized child and to participate in their child's care 24 hours a day (Overnight stays are limited to two parents/support persons). Please be sure to check with your nurse for complete visitation guidelines.
Business Center
For your convenience, a Business Center is located on Main Street near the 5th Avenue Crosswalk.
Family Resource Center
Children's Harbor Family Center is located on Main Street in the Harbor Building. Children's Harbor offers a fitness room, salon, nap rooms, and other amenities for families. In addition, marriage and family counseling and education/ career development services are available. For more information, call 205-638-6123.
Child Life Services
Child Life Services offers age-appropriate activities and special events to minimize the stress of hospitalization. The Sunshine School is a private school designed to serve children with unique educational needs due to chronic health issues. Activity Rooms for infants (0-4 years), school-age (5-11 years) and teens (12 and older) are located on 9 Harbert. Please see a staff member for Activity Room hours.
Making Calls
To place a local telephone call, dial 9 + the seven digit telephone number.
To place a long distance call, dial 9 + 1 + the area code + the seven digit telephone number + the long distance code (obtain through Social Services)
To place a call within the hospital campus, dial 8 + the last four digits of the telephone number
Click here for a list of Important Numbers
Getting Ready to Go Home
Once your doctor has told you it is time for you to be discharged, many steps must be completed before you leave the hospital. The first step is for the doctor to fill out the discharge orders and notify the nurse it is ok for you to go home. Once this is done, your child may need additional medication(s) or treatment(s). You may also need to make a follow-up appointment. We know you are eager to go home, but we want to make sure you are fully prepared and that may take awhile.
Hospitality Services
The Rainbow Call Center provides linen, housekeeping and transportation services. Call 205-638-9241.
Linens: Bed linens are changed every three days or as needed. If you need your linens changed more frequently, call the Rainbow Call Center or ask your nurse.
Housekeeping: Call the Rainbow Call Center for trash pickup, spills, mopping, and broken furniture replacement.
Transportation: Call the Rainbow Call Center for complimentary shuttle transportation to the Ronald McDonald House.
Chapel and Chaplains
The Bew White Jr. Interfaith Chapel is located on the first floor of the McWane Building and is open 24 hours a day, seven days a week. A Christian worship service is held each Sunday at 10:30 a.m. The Meditation Room is located on Main Street near the Information Desk and is open 24 hours a day, seven days a week. Chaplains are available around the clock. If you would like to speak with a chaplain or need more information, call 205-638-9090.
ATM
For your convenience, an ATM machine is located on Main Street near the Information Desk.
Tobacco
Children's of Alabama adheres to a no tobacco policy (cigarettes, cigars, smokeless, etc.). No smoking signs are posted throughout the campus as a reminder. This is for the health and well-being of our patients. There are, however, designated smoking areas located outside the hospital. Visit for information regarding the Birmingham Health District and our partnership.
Internet Access
A guest wireless network is available throughout the campus. Logon to CHSGUEST.
Accommodations
For information on local hotels, contact the Information Desk at 205-638-9111. The Ronald McDonald House (RMH), located at 17th Street and 4th Avenue South, provides a temporary home-away from-home for families of children who are referred to the RMH by their Birmingham health care provider and meet the required eligibility. For eligibility requirements or more information, contact Social Services at 205-638-9684.
Where to Eat
There are several dining options on campus for families and guests including The Market on Main Street (Main Street), the Café (first floor, McWane Building), and GO Store (first floor, McWane Building). In addition, there are several restaurants in the medical center district within walking distance of Children's.