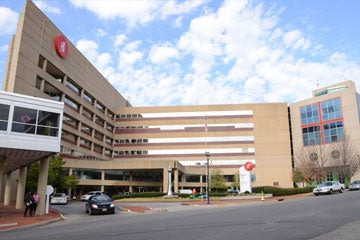 We understand. Whether this is your first visit to a hematology and oncology clinic or you have come from another hospital, coming to a new hospital or clinic can be an unsettling and even scary time for children and their families. Whether it's trying to find your way downtown to the hospital, knowing where to park, or making sure that you have all of your child's necessary medical records - keeping track of it all can be a challenge. However, we think that a little information before your visit can go a long way to making it easier on everyone.
Scheduling an Appointment
A physician's referral is required to schedule a first appointment in the Pediatric Hematology-Oncology clinic. Further information may be obtained by calling 205-638-9285.
Family-Centered Care: We are committed to family-centered care and to partnering with you in making treatment decisions to provide the best possible outcomes for your child. Please let us know if there is anything you need or something for which you need assistance.
Location and Directions: Affectionately known as "Clinic 8" the outpatient clinic of The Alabama Center for Childhood Cancer and Blood Disorders is housed on the first floor of the McWane Building. For driving directions to Children's of Alabama click here.
Parking: One parent may park in the 7th Avenue Deck or the 5th Avenue Deck at no charge. The rates are $1 for up to an hour, $2 for up to two hours, $3 for up to three hours, $4 for up to four hours and $5 for more than four but less than 24 hours. The cost of getting out of the deck without a validated ticket is $25. Have your parking ticket validated at one of the Clinics or Information Desks. You can pay at one of the kiosks located on Main Street near the 5th Ave and 7th Ave Crosswalk.
When exiting the parking deck, insert your ticket stub into the kiosk at the exit gate. When your ticket has been paid or validated the gate arm will rise, allowing you to drive out of the parking deck.
The parking machines do not rely or recognize green arm bands. PARKING TICKETS MUST BE VALIDATED OR PAID.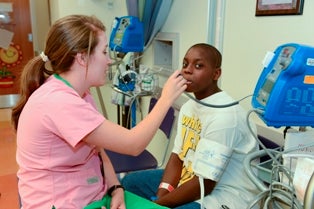 When You Get to Clinic 8: With over 13,000 clinic visits a year, Clinic 8 can be a very hectic place. Coming from across the state and from around the southeast, the patients seen in Clinic 8 range from infants to young adults and are diagnosed with a variety of cancer types or blood disorders.
When you enter the clinic you will be asked to sign in at the front desk, please be sure to bring your insurance card when coming to clinic.
After registration your child will be called to the triage area where they will have their height and weight measured and their vital signs taken.
After triage you may be have labs drawn either in one of the clinic rooms or at the lab down the hall.
Your child will be seen by the doctor in one of the 15 private exam rooms or in the 12 chair infusion room.  
Other team members may also come by and introduce themselves to you and your child. Some of these include: nurse practitioners and Hope and Cope team members such as the dedicated social workers, child life specialists, pastoral care chaplains, psychologists and our teacher.
The typical initial appointment in our specialty clinic could last several hours. You may want to bring snacks and drinks, favorite toys or games and items to entertain your child while waiting. A limited selection of soft drinks, coffee and water are available from the clinic staff.