World Suicide Prevention Month: What Parents Need to Know
September 22, 2022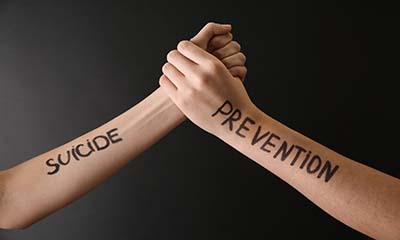 BIRMINGHAM (Sept. 22, 2022)- September is World Suicide Prevention Month. According to the World Health Organization, about 703,000 people worldwide take their lives each year, and for every person who commits suicide, there are likely 20 others who attempt it or consider it.
"Suicide is actually very prevalent in the population as a whole, certainly within the child and adolescent population," Dr. Dan Marullo, pediatric psychologist and neuropsychologist at Children's of Alabama, said. "It is one of the major reasons why our children die. Depending upon which age group you are talking about, it ranks either second or third in terms of mortality."
 Marullo says that with COVID-19, there has been an increase in suicidal ideation, often called suicidal thoughts or ideas, especially in children and teenagers. He also says teenage girls seem to be more at risk than teenage boys in terms of suicidal ideation and actual suicide attempts. However, teenage boys have a completed suicide more often than girls.
Marullo said there are several warning signs to look out for, such as a child or teenager experiencing anxiety, depression, or another mental health disorder, a teenager becoming isolated or more withdrawn, or a child who does not have a strong adult presence in their life.
"It is okay to talk about these things," he said. "It is okay to go to your child and say: hey, I see you have been struggling, let's talk about that. It is okay to say the word depression, and it is okay to say the word suicide; if they are having suicidal thoughts or having those feelings of hopelessness, you may be actually opening up the conversation by saying those words."
If you have concerns about your child, resources are available. The new 988 Suicide and Crisis Lifeline provides 24/7 confidential support. Those who call or text 988 will be connected to a mental health expert. The U.S. Department of Health and Human Services says the lifeline saw a 45% increase in calls compared to August of 2021.
Parents can also call the Psychiatric Intake Response Center (PIRC) at Children's of Alabama and talk with a licensed mental health clinician. The call center is available seven days a week, year-round, from 8 a.m. to 11 p.m. The number to call is 205-638-7472.
"The main thing is to be vigilant. If you see a child struggling, ask those questions, and let's be more proactive in getting them help," Marullo said.