Safety experts encourage parents to practice safety on Halloween
October 26, 2022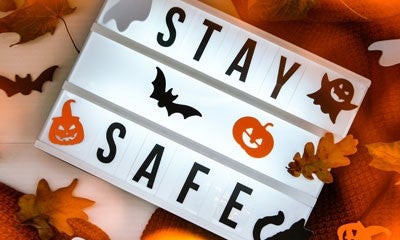 BIRMINGHAM (Oct. 26, 2022) — Halloween is known for ghosts and goblins, but safety experts warn that it can also be a scary time for parents and children. Safe Kids Worldwide says children are more than twice as likely to be hit by a car and killed on Halloween than on any other day of the year.
"We want to make sure that kids are walking safely, so if you have kids under the age of 12, they really need to be supervised for their activities in the neighborhood, said Leslie Brown, Safe Kids Coordinator at Children's of Alabama Health Education and Safety Center.
Brown advises parents to hold their young children's hands as they cross the street. She also said the Health Education and Safety Center teaches everyone to watch and listen for cars and make eye contact with the vehicle driver. Brown also encourages all walkers to put down their cell phones and remove their earbuds so they can pay attention to traffic as they cross the street. Drivers can also take precautions on Halloween night by turning on their headlights earlier in the day. This way, they can ensure they see children more easily in the distance. Trick-or-treating can last for hours for some families, usually starting late in the afternoon and going until around 9:30 p.m. Brown said parents could take a few steps to ensure their children have a fun and safe night.
"So, you can make it creative and make it fun for kids so they can be seen. You can add reflective strips to their costume. They can wear little glowing bracelets and things that reflect. If you have a princess in your house, a glowing wand is fun, and a basic flashlight will always work. Anything that makes you seen at night is going to help kids avoid being hit by a car," said Brown.
Another concern for parents during Halloween is pumpkin carving.  The U.S. Consumer Product Safety Commission reports that pumpkin carving accidents account for more than half of the emergency room admissions for Halloween-related injuries. The commission says that over the past three years, an average of 3,200 Halloween-related injuries were treated in U.S. hospitals, and 55% were related to pumpkin carving.  
"Supervise your kids anytime they are carving, using utensils, knives or anything sharp. A better idea is to get a kit so they can actually stick a face onto a pumpkin as opposed to them using a sharp object," Brown said.
For more Halloween safety tips, click here.
For more information on Halloween candy safety, click here.