RSV: What Parents Should Know
November 14, 2023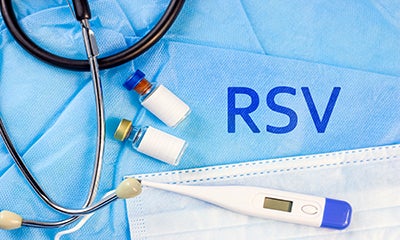 Birmingham, Ala. (Nov. 14, 2023) — Respiratory virus season is underway, and health experts say they are seeing several patients suffering from RSV. According to the Centers for Disease Control and Prevention, each year, 2.1 million children younger than the age of 5 receive outpatient treatment for RSV. It is the country's leading cause of infant hospitalization.
"RSV is the shorthand name for respiratory syncytial virus," said Dr. Alicia Webb, a pediatric emergency physician at Children's of Alabama. "It is a respiratory virus that can cause severe illness in both babies and elderly people."
Webb says the virus can cause breathing problems for infants and young children. Some RSV symptoms include cough, congestion, runny nose, and a fever.  She also says parents should call their pediatrician if the child has a high fever, a cough, or symptoms that get worse, if the child is wheezing, has labored or fast breathing, or is showing signs of dehydration. 
RSV is highly contagious. It can spread through virus droplets when an infected person coughs or sneezes. RSV infections are the most common from fall to spring. Webb says there are some precautions parents can take to help their children stay healthy.
"So much like all of the other respiratory viruses, washing your hands really well can help prevent the spread of illnesses and trying to avoid having contact with other people if you are having symptoms," said Webb.
School-age kids who have a cold should keep away from younger siblings, especially babies, until their symptoms clear up. Parents should also clean and disinfect surfaces people touch, like doorknobs or mobile devices.
An RSV vaccine is now recommended for all pregnant women at 32-36 weeks of their pregnancy if the baby will be born during RSV season (usually fall to spring in the U.S.). This vaccine can protect the newborn from severe RSV illness.  Doctors can also give babies a new type of shot that contains antibodies against RSV. It can be given to babies younger than eight months old during or right before RSV season or babies 8-19 months old who are entering their second RSV season and at higher risk of getting very sick if they get an RSV infection. 
"We have had an RSV vaccine available for quite some time for our premature infants," said Webb. "Now, this new vaccine is available for people over the age of 60 and also for full-term infants. If you are interested in getting that vaccine for your child, it is really important that you talk to your pediatrician."
In October, the CDC alerted health care providers that the drug, Nirsevimab, was in short supply and recommended that available doses be reserved for babies at the highest risk of complications from RSV, those six months old or younger, as well as those with heart and lung conditions. 
You can read more about RSV by clicking here.
Link to information about the 2023 flu season: Flu: What to Know for the 2023-2024 flu season | Children's of Alabama (childrensal.org)