Record Number of Patients Coming to the Emergency Department
October 28, 2022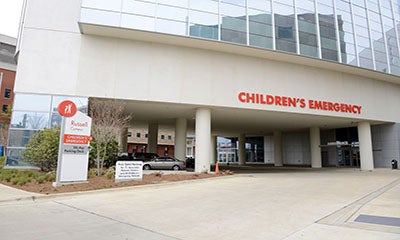 BIRMINGHAM (Oct. 28, 2022) — Doctors at the Children's of Alabama Emergency Department say they are setting records daily on the number of patients they are seeing.
"We have experienced surges in the past, both with the bad flu years and with the last several years of the pandemic," said Dr. Alicia Webb, pediatric emergency medicine."This year, we are seeing more patients all at once with a lot of viral issues, but also from our typical emergencies like broken bones and car accidents."
Dr. Webb says the department is bringing in extra staff and using alternate areas to see patients. She said that for some patients, the wait time in the emergency department has added up to hours. Webb believes several viruses are behind the surge of people coming to the emergency department, including some strains of the flu and RSV, regular cold viruses and COVID-19.
 "It's important that if you are having mild symptoms, those symptoms can be treated at home or can be treated under the care of your regular doctor during business hours. If you are worried that your child may have an ear infection, strep throat, or sore throat, those are usually things that can wait until the next morning to be seen in the pediatrician's clinic or at urgent care," said Webb.
So, when should a parent bring a child to the emergency department? Webb said emergency medical care should be reserved for patients who are having trouble breathing, patients who are not acting as they would typically behave, or those who are just very, very sick.   She said the emergency department would see the sickest patients first, and the department is constantly trying to provide the best and most timely care they can. However, she cautions that families will experience longer wait times. Webb says there is one thing parents can do to ensure their child stays healthy as much as possible this season.
 "All children six months and up can get the flu shot, and all children six months and older can get the COVID vaccine as well," said Webb.