Parents prepare for the end of daylight saving time
November 4, 2022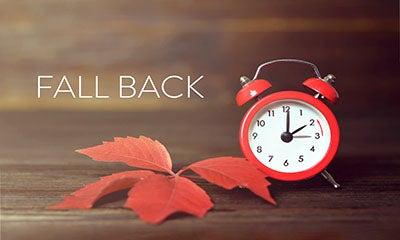 BIRMINGHAM (Nov. 4, 2022) — Daylight saving time ends on Sunday morning, so we set our clocks back one hour.  For some, it's an extra hour of sleep. However, it can be a trying time for parents as they work to adjust their children to the time change.
"The time change is wedged right between two holidays. We've got Halloween, which is the kids' big holiday, and everything is kind of chaotic. Then, we get into Thanksgiving a couple of weeks after the time change, and so both of those events are a little rough," said Dr. Gigi Youngblood, a pediatrician at Children's of Alabama.
Youngblood suggests parents shift their child's sleep schedule at least a week before the time change begins. She also says parents may want to start waking up their children a little bit earlier or start lowering the lights earlier at bedtime because it can take up to a week for a child to adjust.
"Some kids are going to adjust a lot faster; they're going to have no trouble whatsoever. They're just really good flexible sleepers. For some kids, it's going to take a little bit longer," said Youngblood. "I want parents to be flexible, give yourself and your child a lot of grace."
Youngblood says that during this time, parents can become overwhelmed as well. She advised them to call their pediatrician if their child is struggling to adjust. She also suggests that parents look at their schedules.
"Maybe if you have an option not to take on an extra project at work, if you have some social occasion or some events that are optional, maybe opt out of those during this transitional time so that you have a little less pressure back into that perfect sleeping pattern," said Youngblood.
Youngblood says sleep is important because allows our brain to sort and store information. She says eight hours of sleep is an average, but younger children may need closer to 10 hours.