The dangers of vaping and the difference parents can make
September 8, 2022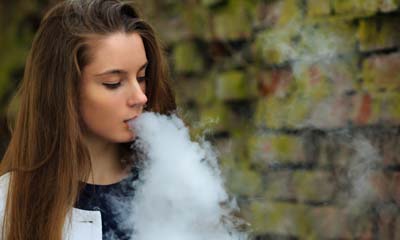 According to a study by the FDA and CDC, more than two million students reported current use of e-cigarettes in 2021. These devices represent the most popular tobacco product among high school and middle school students today.
What impact is vaping having on teens' physical and mental health?
"We really look at three different areas, the developing brain, the heart, and the lungs. All three are really harmed by vaping," warns Robin Geurs, certified tobacco treatment specialist in pulmonary and sleep medicine at Children's of Alabama. "The developing brain of a teen is basically rewired when it comes in contact with nicotine. And we can see this in a youth's inability to sleep, concentrate."
The addictive properties of e-cigarettes are even causing teens to rearrange their schedules to accommodate their vaping habit. 
Increased coughing is just one symptom, but under the surface the lungs are suffering long-term damage. Nicotine causes the heart to beat faster, leading to stiffening in the arteries and reduced blood flow.
"All of these things are unfortunately masked in the marketing toward our youth," adds Geurs. "The harmful effects are just covered up by flavors and scents and this image that it's harmless, when in fact the body is really struggling to deal with the harmful effects."
PODCAST: Listen to Robin Geurs talk about vaping and the difference parents can make.
Misleading Marketing
Research reveals there are more than 15,000 vape flavors available. Social media has spread the message that vaping is "cool" or a good stress-reliever. The devices themselves are designed to be used discreetly—some even in the classroom, undetected. 
All contribute to the draw. Kids are curious creatures, and the marketing delivers to that curiosity. Unfortunately, addiction occurs quickly, sometimes after just a couple of uses. Vape manufacturers know this means more sales. It's a tough battle to fight, but Geurs says it is possible to reduce use in our youth.
"We want to be a supportive network as a community, and that includes all of us. What we realize is that our children are being targeted. If we think of it in that way, we realize these are great kids and they're just experimenting," she notes. "So what we can do is create that safe space for our teen or young person to have a conversation with us as parents, as school administrators, as caregivers. In that safe space, we can talk about the harms. Not in a lecture type of way, but just in a conversation showing support always and concern."
Information and Resources
Alabama's 1-800-QUIT-NOW is a program to help individuals 18 and older quit smoking. For anyone younger than 18, there is a text-to-quit program, provided by the Truth Initiative. The Alabama Department of Public Health (ADPH) has currently joined with the Truth Initiative to provide this support. Teens can text VAPEFREEAL to 88709 to get more information. Another option by the Truth Initiative is to text DITCHVAPE to 88709. 
"I would love to focus on hope. I really feel like we are at this place now, we realize the harms, we see the FDA is trying to make some changes, trying to reduce teen introduction to vaping, but it is time for us to begin this conversation," urges Geurs. "I feel a very positive movement throughout the community. We have statewide advocates who are demanding that our kids not have to deal with this type of harmful marketing."