Committed to a Cure: Children's of Alabama Marks National Childhood Cancer Awareness Month
September 15, 2022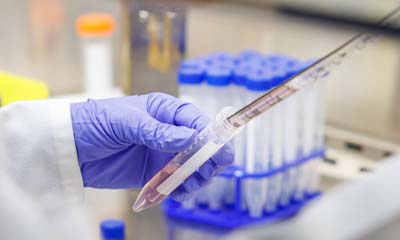 BIRMINGHAM (Sept. 15, 2022) — September is National Childhood Cancer Awareness Month, and Children's of Alabama is committed to finding a cure.
 Each year, more than 190 Alabama children are diagnosed with cancer. The diagnoses include leukemia, lymphoma, brain and spinal cord tumors, solid tumors of muscle and bone, kidney and liver tumors and rare childhood cancers.
Children can receive medical care through the Alabama Center for Childhood Cancer and Blood Disorders. It is a partnership between the UAB Division of Pediatric Hematology and Oncology, Children's of Alabama, the UAB Comprehensive Cancer Center and national childhood research entities, including the National Cancer Institute and the Children's Oncology Group.
"As I reflect on my first three years at Children's of Alabama and the ways our team has shifted to meet the greatest needs of our patients and to advance research for more effective treatments, I am proud of what we continue to achieve together," said Dr. Girish Dhall, director of the Alabama Center for Childhood Cancer and Blood Disorders. "At the heart of everything we do is providing the best care possible for our patients."
Doctors at the center treat nearly 2,000 patients each year for serious blood disorders like sickle cell.
Over the years, Children's doctors have helped develop new treatments through clinical trials. Last fall, the Journal of the American Medical Association-Oncology published a study led by Children's pediatric hematologist and oncologist Dr. Matthew Kutney. It found that a regimen of arsenic trioxide and all-trans retinoic acid (ATRA) is just as effective as chemotherapy at treating pediatric patients with acute promyelocytic leukemia (APL) while presenting fewer challenges to patients.
"As a pediatrician and an oncologist, I've had to have really difficult talks with families about what their child is facing and what type of therapy they're going to have to go through to be cured. So being able to offer a therapy that is less intense and has fewer side effects, but at the same time has amazingly high survival rates, is a really good feeling," Kutny said.
Kutney hopes doctors will find ways to refine the treatment process in the future. Currently, Children's has 90 active Hematology/Oncology clinical trials available through the Clinical Trials Office.
Throughout September, Children's is raising awareness about Childhood Cancer and promoting the work done by our medical professionals.
Events and Promotions:
Kendra Scott Necklace Sale- All month long, all Kendra Scott locations will carry the Ford and Charlie Jean necklace, designed by Children's patients. For every purchase of one of these necklaces, a portion will be donated back to Children's of Alabama.
Dunkin' Donuts- Customers will receive a free Gold Joy Donut with a $2 donation at a Dunkin' Donuts location. This runs through September 29.
Birmingham Southern football will host a Gold Out Game when the Panthers host Point University on Sept. 24. A Children's patient will serve as honorary captain during the coin toss.
 Yellow Ribbons and Buy Alabama's Best- Buy Alabama's Best is a campaign to identify and raise awareness of Alabama food products.  Participating retailers will ask customers to show their support for Children's by purchasing a yellow ribbon.
Love's Travel Stop- Stop by a Love's Travel Stop and purchase a balloon icon or round up your total at any location through Sept. 30.
Cookie Fix- For every Cure Gold cookie purchased, Cookie Fix will donate to Children's of Alabama. This promotion runs through September 24.
 Be The Match- Save the life of a patient in need of a bone marrow transplant by joining the Be the Match Registry. You'll be listed as a potential donor as a registry member. Visit join.bethematch.org/ChildrensAL or text "ChildrensAL" to 61474 to take the first step to be someone's cure.
The Curing Childhood Cancer Specialty Car Tag is celebrating its 16-year anniversary this year. Purchase a specialty tag at any Alabama Department of Motor Vehicle location for $50, and $41.25 of that will be donated to Children's.
For more details on events and promotions this month, click here. The generosity of donors, sponsors and other supporters gives hope to children being cared for at Children's of Alabama today and in the future.
About Children's of Alabama
Since 1911, Children's of Alabama has provided specialized medical care for ill and injured children, offering inpatient, outpatient, and primary care throughout Central Alabama. Ranked among the best children's hospitals in the nation by U.S. News & World Report, Children's serves patients from every county in Alabama and nearly every state. Children's is a private, not-for-profit medical center that serves as the teaching hospital for the University of Alabama at Birmingham (UAB) pediatric medicine, surgery, psychiatry, research, and residency programs. The medical staff consists of UAB faculty and Children's full-time physicians, as well as private practicing community physicians.