Christmas Tree Farm Arrives at Children's of Alabama
December 5, 2019
BIRMINGHAM (Dec. 6, 2019) – The holidays have officially arrived at Children's of Alabama thanks to ACE Hardware and the Junior League of Birmingham.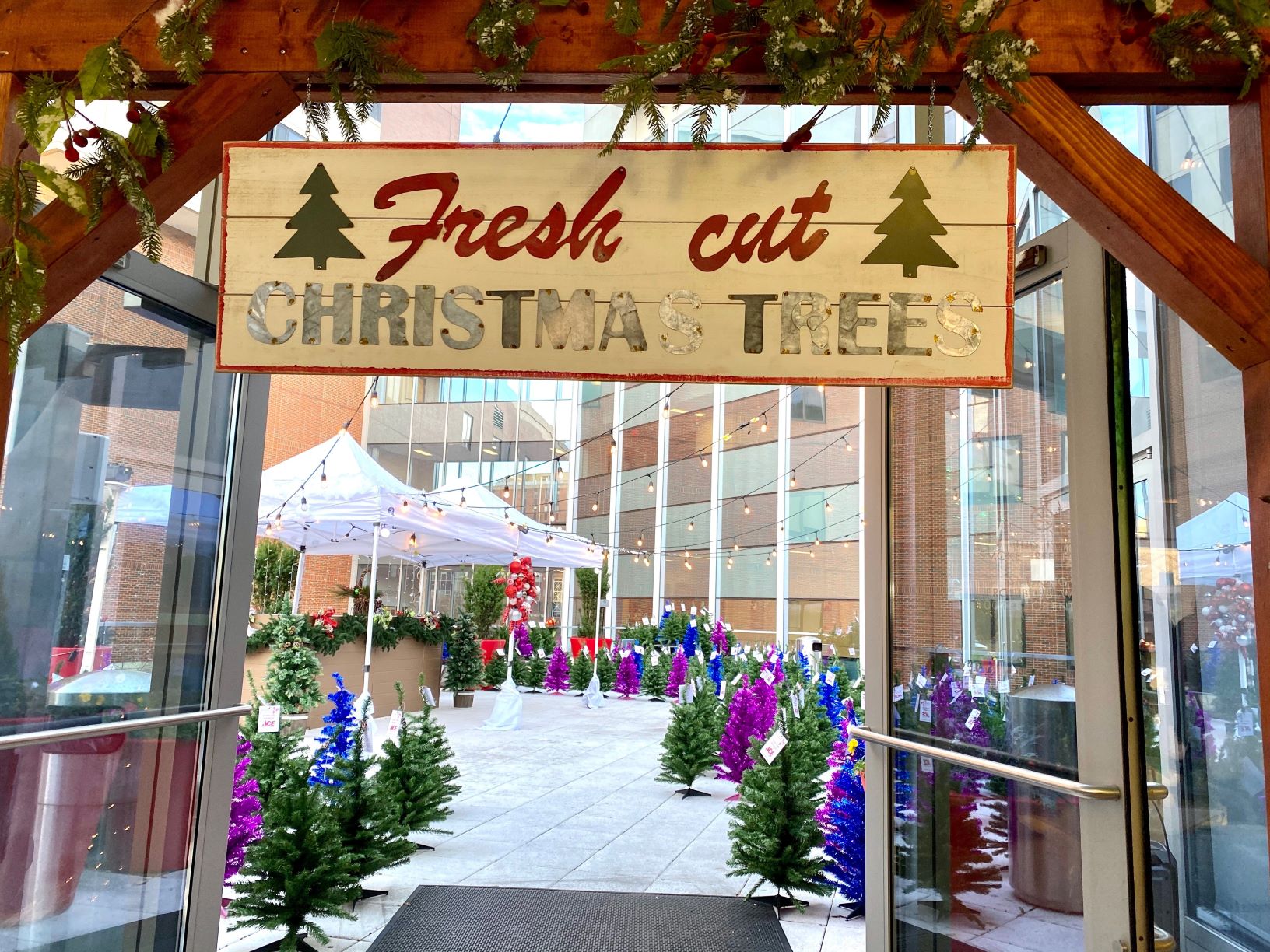 On Thursday, Dec. 5, the Junior League hosted a Christmas tree farm on the patio of the Benjamin Russell hospital for patients at Children's. Thirty locally owned and operated ACE Hardware stores across Alabama joined together to donate 340 3-foot artificial trees for patients to pick out, while the Junior League provided the decorations for the trees and activities.
HOAR Construction made the tree farm come to life, building structures, hanging lights and creating fake snow on the patio at the hospital. Santa also made an appearance to take photos with the patients. The trees traveled from Loxley, Ala. and were delivered to the hospital earlier in the week.
"We are grateful to the Junior League of Birmingham, ACE Hardware and HOAR Construction for bringing some holiday cheer to Children's of Alabama this season," said Emily Bridges, Community Development Coordinator at Children's of Alabama. "The holidays can be a particularly trying time to be in the hospital, so to give our patients and families the opportunity to pick out a tree and participate in that holiday tradition regardless of their circumstances is especially meaningful."
Members of the Junior League volunteer at Children's for their Family Fun Times community placement. As part of their yearlong programming for patients, the Junior League hosts an annual Christmas event. This is the first year for the Christmas tree farm, made possible by ACE Hardware, a Children's Miracle Network (CMN) Hospitals community partner of the hospital.
"We can't thank ACE, HOAR Construction and the Junior League enough for their generosity and for creating such a wonderful moment for our kids," said Bridges.
Since 1911, Children's of Alabama has provided specialized medical care for ill and injured children, offering inpatient and outpatient services throughout central Alabama. Ranked among the best pediatric medical centers in the nation by U.S. News & World Report, Children's provided care for youngsters from every county in Alabama, 42 other states and seven foreign countries last year, representing more than 677,000 outpatient visits and more than 15,000 inpatient admissions. With more than 3.5 million square feet, Children's is one of the largest pediatric medical facilities in the United States. More information is available at childrensal.org.