Children's and UAB launch new urine collection device for critically ill premature infants and children
September 15, 2022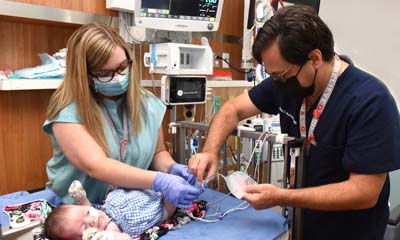 By Hannah Echols
BIRMINGHAM, Ala.—Collection and recognition of urine production is essential for proper patient care. Urine is often an indicator of organ perfusion, kidney issues or failure, and samples are used for a variety of diagnostic tests. However, current urine collection methods for premature infants and small children, two of the most vulnerable patient populations, are often ineffective.
 
Catheterization is difficult in neonates, and collection bags or diaper weight measurements are not accurate and can cause discomfort. Due to the lack of accurate tools, current clinical practices vary drastically among institutions.
 
In July 2022, a group of experts from across the University of Alabama at Birmingham (UAB) and Children's of Alabama, along with local entrepreneurs, launched Zorro-Flow Inc., the newest startup of the UAB Harbert Institute for Innovation and Entrepreneurship (HIIE). The product is a neonatal external urine-collection device designed to collect urine safely and effectively in critically ill female neonates and infants less than 1 year old.
 
"We can reliably collect urine in every critically ill patient at our institution, except in very young children," said David Askenazi, M.D., medical director of the Children's Pediatric and Infant Center for Acute Nephrology. "In both the clinical and research arenas, I found myself continually asking why someone hasn't addressed this issue. Then it dawned on me — why can't we do it in Birmingham?"
 
While an expert in the pediatric nephrology field, Askenazi knew he would need a team of business experts to turn his idea into a reality. He brought in James Wilkie, with 35 years of experience in the life sciences industry developing both drugs and devices, as well as Bruce and Eva Ovitt, who offer complementary sets of skills and experience in various health care business startups, branding, marketing and sales. Once the team was created, HIIE assisted them in disseminating management duties.
 
To bring Zorro-Flow from paper sketches to a physical device, the team enlisted the help of Martin Holland, then a graduate student in the UAB School of Engineering. Two nurses from Children's of Alabama, Elizabeth Dechant and Shelby Leverett, also advised on the design of the device. As ostomy nurses, they provided valuable insight on how to adapt the device to provide the most comfort for young patients.
 
"I routinely deal with a wide array of wounds and iatrogenic skin injuries caused by medical devices," Dechant said. "We designed the initial Zorro-Flow prototype out of a small respiratory mask, soft tubing and silicone tape. I prioritized the protection of infants' delicate skin when considering the shape and securement methods for the device. I hope that Zorro-Flow will open doors in research and patient care by providing a safe and noninvasive method for urine collection and quantification."
 
Moving forward, Askenazi and the team plan to file the female version of Zorro-Flow as a Federal Drug Administration class 2 device and launch the devices for beta testing at several large academic centers focused on neonatal nephrology in the first quarter of 2023. They also aim to complete the male version of Zorro-Flow within the next 12 months.  
 
"If you see a gap in your ability to care for your patients, think about innovative solutions that can help you better care for your patients," said Askenazi, who's also a professor and the W. Charles Mayer Endowed Chair in Pediatric Nephrology at UAB Marnix E. Heersink School of Medicine. "UAB has so many talented individuals on campus, there is likely someone out there who can help you figure it out. The Harbert Institute team provided me with a framework and helped guide me through forming a team, developing a plan, applying for internal seed funds, and the multiple steps needed to innovate and file for an international patent."
 
In 2020, the HIIE split $300,000 among 11 UAB early-stage projects — including Zorro-Flow — as part of the U.S. Economic Development Administration's Regional Innovation Strategies program, now known as the Build to Scale program. The initial pilot funding for Zorro-Flow prototypes came from the Tolwani Innovation Fund in Nephrology.