Children's of Alabama Partners with Safe Kids Worldwide and State Farm Host Car Seat Safety Event
November 15, 2023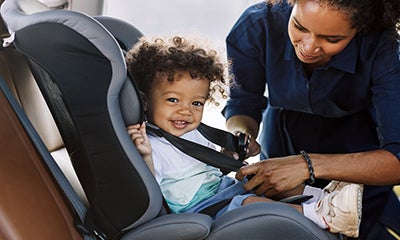 Birmingham, Ala. (Nov. 14, 2023) – Children's of Alabama, Safe Kids Worldwide and State Farm teamed up to keep kids safe on the road by hosting a car seat clinic for the community.
On Tuesday, Nov. 14, dozens of families came to Children's to get their car seats checked. Certified Child Passenger Safety Technicians worked with parents and caregivers, helping ensure infants and children were buckled up in the right seat. This event was part of the Good Neighbor Car Seat Safety Program. 
"We are so grateful for this partnership between Children's of Alabama, State Farm and Safe Kids Worldwide," said Marie Crew, director of the Health and Education Safety Center at Children's. "Together, we are taking steps to make sure children are safely buckled up in the correct car seat every time they are in a vehicle. To keep children safe while in the car, having the right car seat and knowing how to install it is essential."
The Good Neighbor Car Seat Program addresses a leading cause of death for children ages 1-12: motor vehicle crashes. Over the next few months, 25 communities nationwide will participate in car seat clinics, increasing access to education and resources to help inspire behavior change and create a culture of safety for children and families.